02.08.16
The storm, accompanied by rough winds, heavy rain, thunder and lightning flashes became a common sight this summer in Siberia. Every time it carries different damages from temporary power outages in some areas of the city, to the fire, destroying homes and property of citizens. Owners of single-family houses, cottages and garden plots, taking care of safety of the relatives and electrical equipment, more frequently think about protection against lightning and its secondary effects. 
What danger does lightning bring and how to protect against it?
In summer, any owner of a sinle-family house tends to spend all the time in the countryside and in the pursuit of comfort, which in our time is simply impossible without a variety of electronic devices, equips his home. Using them, it should be remembered that the main threat of lightning is the damage to your property, which can be disabled by a direct lightning strike into the building or its pickups. Or even, an atmospheric discharge may cause fire in the house and the surrounding buildings.
Weekly news bulletins show information on the damage caused by lightning. Only for the recent month there was a dozen of such events. For example, fire in a summer house in Berdsk, which happened on 4 July 2016, where a room of 24 square meters was damaged. The same day the lightning hit a residential 5-storey house on street. Promyshlennaya in Dzerzhinsk district, leaving the residents without electricity. The recent weekend an unfinished house in the village Prokudskoe in Kochenyovsky region was destroyed by a direct lightning strike. A year earlier, in the same period, on 25 July 2015 in the village Kudryashovsky, a house under construction made of beams was on fire and burned down completely. There are hundreds of such cases, if not thousands. The sums of direct damage caused by lightning and the following repairs can reach hundreds of thousands of rubles.
Photos of Novosibirsk evacuation service "AST-54»
How to protect a single family house from lightning?
It should be noted that the nature of damage can be different: there might be a direct lightning strike into the house, leading to damage and fire, and secondary effects of lightning, causing overvoltage in electrical circuits. For each damage there is its own precaution. 
First of all, damage from direct lightning strikes. To protect from them a lightning protecton system should be installed, which consists of three components: lightning rods, perceiving a direct lightning strike; grounding device, providing current spreading in the ground and down conductors connecting the first two elements.
Selection of quantity and height of lightning rods should be made based on the characteristics of the building: building dimensions, roofing materials, roof shape, etc Such calculations are performed by the Technical Center ZANDZ.com, specializing on the calculation of optimal solutions for grounding and lightning protection when studying individual features of objects.
Secondly, the unpredictable path of the lightning current, which may hurt human and bring to substantial overvoltages in electrical circuits. These effects can be eliminated by directing the lightning current into the grounding device which serves for the correct spreading of the lightning current to the ground. Grounding is also the basis of electrical safety of the house. Quite often there are wiring damages that lead to electric shock and present a greater threat to human security. For example, if there is a wiring damage, the body of the electric stove will be under stress and at improper grounding measures, the person who touches the stove will get an electric shock! To protect yourself against such cases it is necessary to install grounding,  and also you need to know how to organize it properly to meet all protection purposes.
Metal foundation piles can be used as a grounding device as well as interconnected fittings of concrete building foundations. The EIC 1.7.109 sets out options of object construction, which can be used as ground electrodes. But this solution is not applicable to all types of foundations, as some materials used for the foundation of the structure have waterproofing that greatly impairs electrical conductivity, which makes them inapplicable for grounding. Then you should use artificial grounding. The required number of electrodes and their lengths are calculated on the basis of the individual characteristics of the soil and structure. However, all work on the selection of grounding is simplified with pre-sets that do not require special knowledge and skills of installation. For example, a very simple and easy-to-implement solution that guarantees the result of a hundred years - it is a quickly-mounted modular grounding kit ZANDZ,developed specifically for using in a single-family house.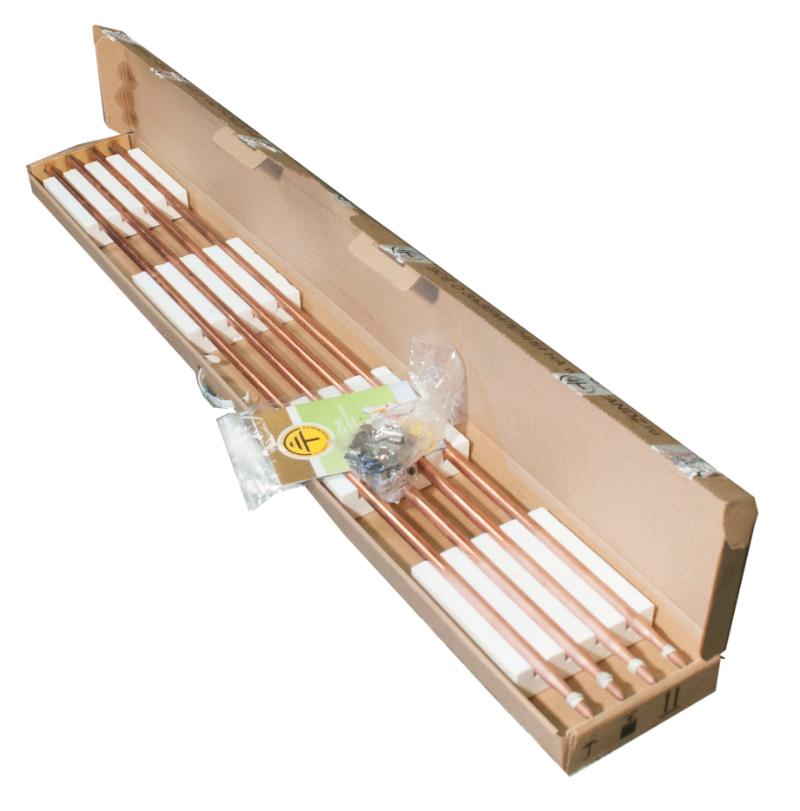 ZANDZ ZZ-6 "Single-family house grounding" kit
Thirdly, damages from overvoltage resulting from lightning strikes. They expose home appliances to the impact of current and voltage of an immense value, in the result of which it can be damaged. To protect electrical equipment in the building from the huge voltage pulse internal lightning protection - SPD must be installed.
SPD (surge protection device) allows you to secure the circuit and equipment, to prevent an emergency situation and minimize the damage when overvoltage comes along the line or even in case of a direct lightning strike into an object. SPD withstands surge current of a predetermined shape (up to a complete lightning current) securely removes the pulse energy into the ground and provides the required residual tension.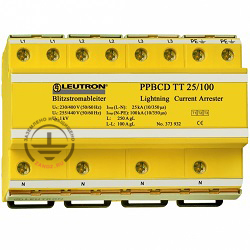 Surge protection device of class 1+2+3 Leutron PowerPro BCD TT
How to make a calculation of grounding and lightning protection?
You can learn about the specific configuration of grounding and lightning protection for a single family house for free from the experts of the Technical Center ZANDZ.com. They are always ready to help with calculations grounding and lightning protection for the individual object. Having a ready-made solution Experts of the ZANDZ.com Club will easily perform installation for you and carry out the necessary measurements on site. It won't take long, but it will surely insure you against potential risks associated with lightning.
Get free advice on the calculation, selection and installation of grounding and lightning protection now! Call the hotline and you will get all the information you need on the protection against lightning of the house.
"Maybe I will be lucky", "Lightning doesn't strike the same place twice," "Once in a blue moon" and other deviations from liability
After reading this article, one will find an argument to postpone the issue of security for later. As they say, "until the thunder breaks out - a peasant will not cross himself" and still, do not put your security questions off "till tomorrow."
- It takes a long time
- Installation of the ready grounding kits for a single-family house is carried out individually in just 30 minutes! Step by step manual and video can be found on our website in the "Library" section. The specialists of ZANDZ.com Technical Center are ready to make a pre-calculation for your house.
- I can't do that.
- And I don't need it. Entrust installation of grounding and lightning protection to the professionals, using the services of the Club of Experts ZANDZ.com.
- "Maybe I will be lucky" and the lightning won't strike.
- Solution for security setup in your house is after you. Lightning is equated to a natural disaster; we should not underestimate its impact.
Until 31 December 2016 there is a special offer for retail customers: at the purchase of grounding you get free shipping on the territory of Russia. The conditions of the special offer are applied to the purchase of modular grounding of the brands ZANDZ and GALMAR of copper-plated steel for the sum over 10 000 rubles.
You can see the grounding kits, which are subject to the conditions of the special offer here.
Do not wait until the "thunder claps" - Technical center ZANDZ.com will help you to protect your home or cottage. Call right now!
---
Related Articles: