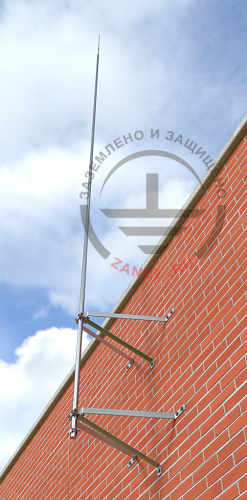 Sophisticated architecture often limits available spaces for the installation of lightning rods significantly. This specifics combined with large facility spaces often does not give any chance to develop a highly efficient lightning protection. One of the solutions in this situation may be the installation of lightning arresters with large height on the walls, which compensate for the insufficient number of short arresters.
Length of ZANDZ lightning arresters for wall mounting ZZ-201-007-3, ZZ-201-008-3 and ZZ-201-010-3 is 7, 8, and 10 meters respectively. The lightning arrester design is made of a pipe to provide low weight. To provide secure installation, the lightning arrester set includes a set of securing accessories and metalware. All elements of the lightning arrester and securing accessories are made of stainless steel, which provides for high corrosion resistance. To connect the current collector made of a circular wire up to 8 mm or a flat wire with the width of up to 30 mm, a special ZZ-202-002 clamp is used, which is available separately. The clamp material allows using it for connecting the current collector made of any material. Lightning arresters are supplied dismounted with the maximum section length 3 m. Total structure weight is up to 47 kg.
During the design of such lightning arresters, remember to have additional length to install mountings. The reduction in the working length of 7 and 8 m rods is at least 1 meter, for 10 meter rods, it is at least 2 meters.
More information on ZANDZ and GALMAR lightning rods for securing on the wall is provided in a separate page.
---
Related Articles: