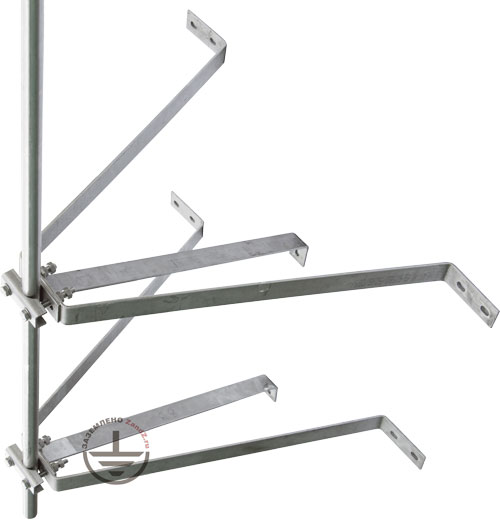 A rod arrester mount is an essential part of the lightning protection system. The lightning arrester (mast) may reach 7 to 10 meters; the wall may be made of various materials, while the requirements to the structure's service life sometimes exceed 10 years. The lightning arrester mount should bear increasingly more mechanical loads, should be corrosion-resistant, and also should be versatile relative to the masts being secured, easy-to-use, and practical.
To solve this specific task, we have developed a wall mount for securing lightning arresters ZANDZ ZZ-203-001. It is a set of elements, which allow securing the lightning arrester mast on a vertical surface in two points. The mount is 100% stainless steel. The structure strength is provided by supports 50 mm (width) x 6 mm (thickness). When the inter-support distance of 1 m is observed, masts of up to 7 m long. are allowed. The mount bracket for the lightning arrester allows using masts with the diameter up to 42 mm.
ZANDZ ZZ-203-001 may be used for construction bases made of any material. You should choose a reliable fixing arrangement to the wall (not included).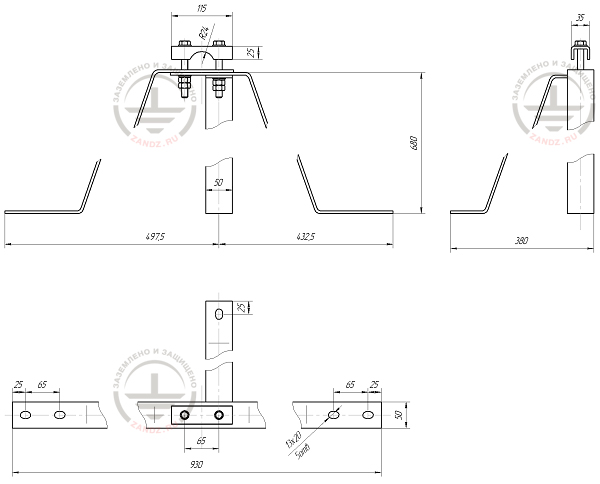 An important feature of the ZANDZ ZZ-203-001 mount is the distance between the installation surface and the lightning arrester, which is 680 mm. For a country house, this allows for securing the mast on the frontispiece under the ledge of the inclined roof instead of installing it on the roof ridge. A common problem is thereby avoided: reliable securing of the lightning rod on the roof coating. In the industrial construction, such offset allows for installing a lightning arrester on the wall without any problem associated with their crossing of utility lines beneath (pipes, cable trays, etc.), the presence, location, and size of which are usually unknown during the lightning system's design.
Try using ZANDZ hardware when designing and installing lightning protection and grounding systems.
Do you have more questions or need a free help in design? Please, contact the ZANDZ Technical Center! We are happy to help you.
---
Related Articles: