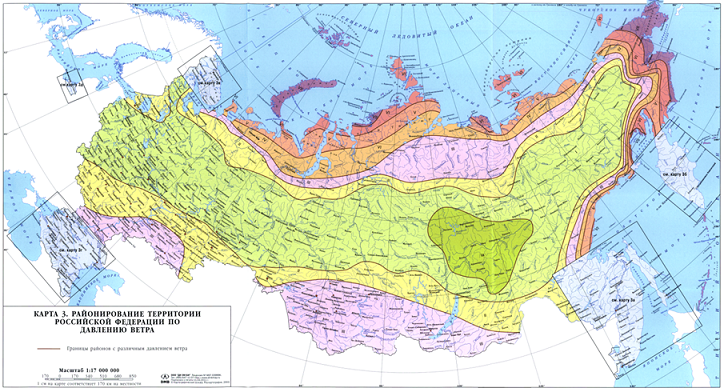 КАРТА 3. РАЙОНИРОВАНИЕ ТЕРРИТОРИИ РОССИЙСКОЙ ФЕДЕРАЦИИ ПО ДАВЛЕНИЮ ВЕТРА - MAP 3. REGIONS OF RUSSIAN FEDERATION IN TERMS OF WIND PRESSURE
The article Wind Load to Lightning Arresters has been written to help designers in choosing lightning protection products meeting the Russian standards and regulations. Its first part sees into major requirements to cross-section and material of lightning arresters and current collectors. Its second part is dedicated to standardization of wind effects on lightning arrester masts. The lightning arrester is considered to meet Russian standards, if it has been tested for wind load equal to or exceeding the rated value. The article provides for the calculation algorithm of the rated wind pressure. However, various manufacturers state information on resistance of their masts to wind loads in different ways (by specifying wind zone, wind rate, etc.). In conclusion, the article explains how to use this information to obtain wind pressure value for which the mast has been tested.
Read article Wind Load to Lightning Arresters for more details.
---
Related Articles: