26.08.16   
The technological grounding or as it is called "functional", "operative" is not intended for electrical safety but for a proper operation of the electric installation. The value of such grounding resistance is determined by the equipment manufacturer and is indicated in the certificate or maintenance rules to the equipment. Such equipment typically has precise electronic systems, for the operation of which it is necessary to eliminate any interference. This can be either a machine at any production, and medical equipment such as MRT, ultrasound investigation or cryocapsules. Resistance of the functional grounding device can be from 0.1 to 2 ohms.
Our Technnical Center recieved a request to help calculate the technological grounding resistance of less than 1 Ohm for MRT unit in one of the hospitals of Moscow region. The problem was that the area for the installation of grounding was very limited. We offer you a solution of this task.
Initial data:
Soil resistivity - 150 Ohm * m;
available area for installation - 6x8 m.
To get low electrolytic grounding on a small area we applied ​​low electrolytic resistance.
The complex of measures to ensure necessary requirements for the lightning protection system is represented by the following solutions:
installation of 5 kits of electrolytic grounding ZZ-100-102MB. The distance between the electrodes not less than 3 meters, to the foundation - not less than 4 meters;
additionally 10m of tape and 1 clamp for the connection of the conductor to the equipment are provided.
Calculation of grounding device resistance:

The resulting design resistance of the grounding device was 0.987 Ohm, which is less than the desired value 1 ohm.
Location of equipment is shown in the figure below.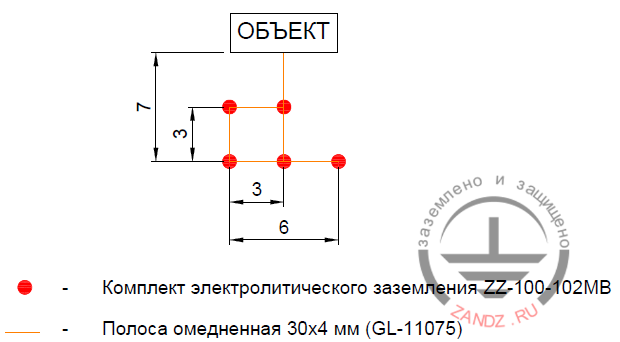 Grounding device elements layout
Объект- object
Комплект электролитического заземления ZZ-100-102 МВ - ZZ-100-102 МВ electrolytic grounding kit
Полоса омедненная 30 на 40 мм  - copper bonded tape 30x40 mm
The list of the required materials is given in the chart:
Do you have a question in the design of grounding or lightning protection? Ask our technical specialists for advice! Get more information in social networks:
---
Related Articles: