Most sellers working in the Russian market face customer requests from the CIS countries and the former Soviet Union. But not everybody deals with foreign companies considering export of goods to be a difficult process in the document flow. Today we want to tell the subtleties of working with organizations from neighboring countries on an example of our work with a customer from Armenia.
Our Technical cent ZANDZ received an order for the purchase and supply of electrolytic grounding. The packaged goods turned out to weight 1342 kg and have a volume of 4,698 cubic meters. It was necessary to deliver the goods to the buyer's warehouse in Yerevan. What should be observed when selling such an order?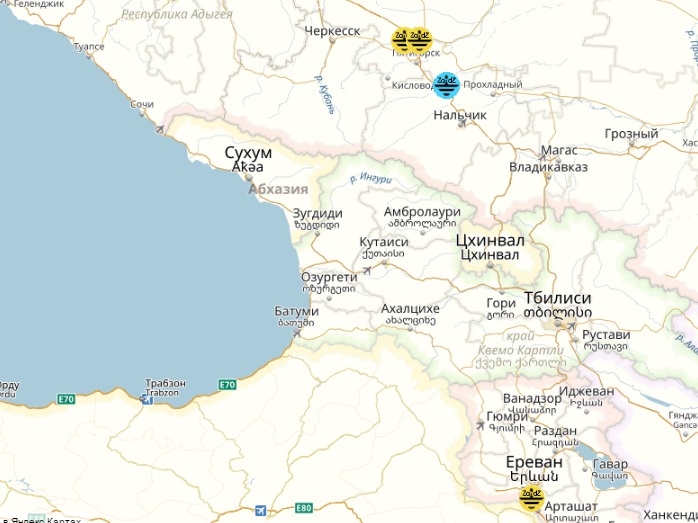 Part of a geographical map with objects, grounded by ZANDZ kits
First of all, correct execution of documents, accompanied with the cargo. A standard set of documents consists of the invoice, TORG-12 and delivery document. All organizations pay value added tax in accordance with the customs legislation of their country. Therefore, when selling goods to Armenia, the amount of VAT in the documents should be 0% , as the customer will pay VAT into the treasury of the state.
Secondly, transport costs. Components of grounding and lightning protection refer to heavy equipment and, as a rule, their transportation requires a large-sized vehicle. If you do not have your own transport, it is best to make an arrangement with the transport company and to foresee the cost of transportation.
Thirdly, certificates of conformity for the products. These documents are necesasary for the cystomer for customs clearance at the border, so take care of them in advance. All ZANDZ and GALMAR products comply with the requirements of normative documents, see detailed information here.
And finally, do not be afraid to expand the horizons! Customers are closer than you think. Most of the foreign companies already have experience in the international market and are waiting when you reveal yourself. Ask your questions in our groups in the social networks:
---
Related Articles: