Product item: ZZ-6-1

Copper-bonded clutchless grounding pins with clamp sealing sleeve is made of rolled steel with electrolytic copper bonding of a purity of 99.9% and thickness not less than 0.250 mm, which composes molecular and inseparable connection with the steel. The pin steel base has a high tensile strength - 600 N / mm².

One end of the pin is narrowed due to forging, thanks to what it retains its protective copper coating over the entire length. In addition, the narrowed end allows to immerse the grounding pin into the ground without a special tip. There is a dead hole on the other end made for the connection of pins with each other and increase of the total length.

At the junction of pins there is a sleeve made of stainless steel, fulfilling the sealing role as well as reinforcing the connection. Also, the sleeve eliminates possible deformation of the rod slot-embedded part, arising during driving it into the ground.

It is necessary to use a driving head, trasferring the striking force to the center of the rod for the installation of clutchless pins.

A  stainless steel clip is used for the connection of the ground conductor.
| | |
| --- | --- |
|   | ZZ-6-1 |
| Pin diameter: | 17 mm |
| Length: | 1.51 m |
| Weight: | 2.75 |
Copper bonding technology
The key factor in the manufacture of a high-quality ground rod is formation of a firm homogeneous copper coating of the required thickness with minimal impurity elements on a steel blank.

On a separate page "Copper-bonded steel" you will see a detailed description of the main characteristics, processes during the manufacture and the coating tests held.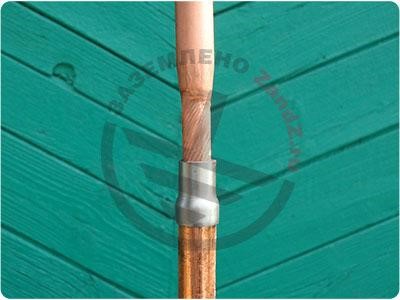 Related Articles: