This section of ZANDZ.com presents components and kits for the organization of a reliable grounding and lightning protection on any object.
1. Grounding.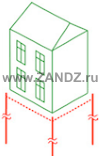 Complete kits and individual components of ZANDZ modular grounding are used to organize a simple and high-quality grounding of any shape and for any purposes. 
Details - on an individual page.
---

ZANDZ "Grounding in a single family house" ZZ-6 - is a complete package and a complete manual for grounding in a summerhouse / country or a detached home. Availability, reliability and installation simplicity made this set a real bestseller! 
Details - on an individual page.
---

Complete manual for installing modular and electrolytic grounding. How to prepare the facility for installation, which tools to use - look at an individual page.
---

Certificates of conformity for the kits and components for ZANDZ and GALMAR  grounding are presented on page.

Unique electrolytic ground electrode systems are designed for the organizations of durable grounding in soils with high levels of electrical resistance:
---

Huge catalog of components for GALMAR grounding: rods, couplers, nozzles, heads, clamps, heads, tapes. Installation of GALMAR modular grounding does not require special skills and equipment - all components are conjugated without welding.
Details - on an individual page.
---

Tips for the organization of grounding at various sites. Is it possible to carry out grounding installation in winter time in difficult ground? How to make a multi-electrode grounding on a mobile communication facility? 
Answers to these and other questions see on an individual page.
Related Articles: