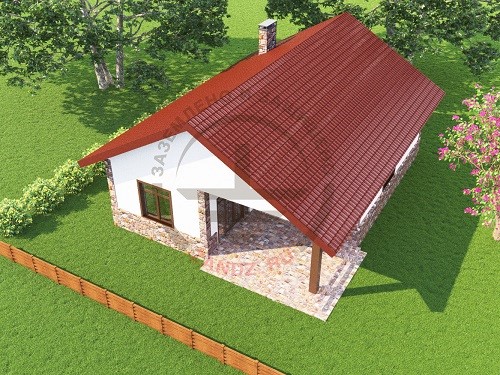 Despite the variety of architectural possibilities available, lightning protection solutions for suburban private housing can be unified. This approach to the organization of a lightning rod removes the difficulties associated with the calculation of the system, the selection of equipment and the determination of its required volume.
We have developed 4 sets of lightning protection, which are suitable for a large number of common single-family houses. All of them are designed to protect conventional (AD 34.21.122-87, IS 153-34.21.122-2003) objects and provide at least the III lightning protection level recommended by standards. The kits consist of various lightning protection elements: air terminal rods, conductors, clamps, mounts and grounding parts. Fasteners of lightning rods and copper-bonded conductors are installed directly on the roof, walls, drainpipes and other elements of the house. It is quite possible to complete the installation of a lightning rod yourself or by resorting to the help of specialized organizations. When installing the kit, you will need a manual and an electric tool, as well as some skills in building and installation works. If necessary, parts from the kit can be purchased separately. The service life of lightning protection elements is at least 30 years, while maintaining the declared characteristics.
Differences of sets in their composition. So how to determine the right one?
Each lightning protection kit has the following selection criteria:
house dimensions;
the height of the walls to the eaves (overhang) of the roof;
level of the roof's pitch;
number of chimneys or roof shafts on the roof.
Correspondence table of selection criteria and kits:
| | | | | |
| --- | --- | --- | --- | --- |
| Kit | The number of pipes and shafts on the roof | Roof slopes | Wall height not more than, m | House dimensions not more than, m |
| | 1 | 2 | 7 | 8х10 |
| | - | 2 | 9 | 10х25 |
| | - | More than 2 | 9 | 12х12 |
| | 2 | More than 2 | 9 | 18х18 |
After making sure that the protected structure is suitable according to the specified criteria, you need to pay attention to the limitations of the use of kits:
permissible type of roofing used: varieties of bituminous tiles, metal tiles and other metal profiled sheets, slate or andulin roofs;
the excess of the ridge level over the level of the eaves of the roof is at least 3 m;
the width of one of the sides of the roof shaft is at least 1 m;
it is unacceptable to use basalt, permafrost, granite, sandy soils, limestone, gravel, etc. in high-resistance soils in the construction area
You can find out more details about the kits on a separate page or ask a question to specialists of the ZANDZ Technical Center.
---
Related Articles: