Fan installations are mainly used for ventilation of mines. Recently, the ZANDZ technical Center received a request to calculate such an installation. For lightning protection of the facility there was a basic requirement to fulfill the 2nd category according to the AD. Let's consider our offered solution in more detail.
Calculation of lightning protection of a fan installation building
Object: fan installation building.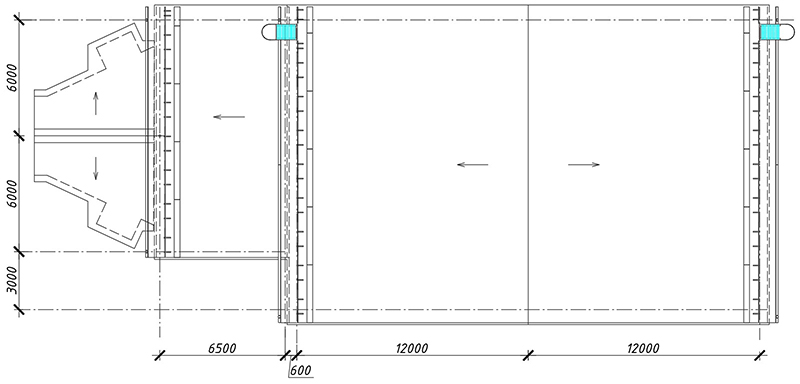 Figure 1 – Object plan.
Task: Perform calculations of lightning protection system of the fan installation building
Solutions to ensure the requirements for the lightning protection system of a building of a fan installation:
Lightning protection was carried out in accordance with Electric Installation Code EIC 7-th ed. IS 153-34.21.122-2003 «Instruction to lightning protection of buildings, structures and industrial communications» (hereinafter IS); AD 34.21.122-87 «Instruction on arrangement of lightning protection for buildings and structures» (hereinafter AD).
The object refers to the II category of lightning protection according to AD. The reliability of the system should be at least 0.95.
Lightning protection of the object is made using, lightning protection mesh with a pitch of not more than 6x6 m. The mesh is made of copper-bonded (copper coating thickness of at least 70 μm) wire d8 mm (GL-11149).
A copper-bonded steel (copper coating thickness of at least 70 μm) wire d8 mm (GL-11149) is used as a down conductor.
Installation of down conductors is carried out using the clamp GL-11711 - on a flat roof, GL-11703A - on vertical surfaces. Clamp installation pitch 0.8-1.0 m.
The universal clamp GL-11551A is used to connect rolled products in length and in nodes.
All metal elements located on the roof must be connected to the down conductor using the clamps GL-11545A. Stairs, railings, are attached using the clamp-clamp GL-11514N.
The grounding device is provided by the customer.
Connection to the grounding device is carried out using the terminals ZZ-005-064.
Figure 2 shows the location of the equipment.
Table 1 lists the required equipment and materials.
Условные обозначения – type codes
Проволока стальная омедненная диаметром 8 мм – copper-bonded steel wire 8 mm in diameter
Универсальный зажим-соединитель для проволоки – universal connecting clamp for wire
Фальцевая клемма для крепления к металлическим конструкциям- Folded terminal for attaching to metal structures
Зажим-хомут - clamp
Опуск токотвода – down conductor down drop
Figure 2 - Location of equipment for lightning protection of a building of a fan installation.
Table 1 - A list of material requirements.

Do you have questions on lightning protection of fan installation buildings? Contact ZANDZ Technical Center!
---
Related Articles: