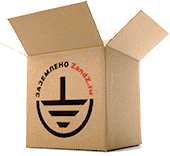 A universal modular grounding kit ZANDZ is intended for organization of a one-point or three-point grounding device for residential buildings (houses, cottages), for telecommunication and power facilities, mobile and stationary phone operators, private networks, industrial plants.
This ready-to-use kit contains all the components necessary for installing the earthing switch, which can be easily interfaced with each other.
Detailed description
Information about the kit and components is presented on an individual page" Modular grounding".
Installation options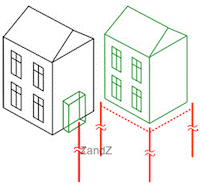 Universal grounding kit ZZ-000-030 can be mounted in the form of one deep 30-meter electrode or in the form of three, spaced from each other, electrodes 10 meters each: 10.5 + 10.5 + 9
Components
Threaded copper coated grounding rod (D14; 1,5 m)


The kit contains 20 pins

Threaded coupler


The kit contains 20 couplers

Starting tip


The set contains 3 tips

Guide head for a breaker hammer


The set contains 3 heads

A clip for conductor's connection


The kit contains 3 clips

Electrical joint compound


The set contains one electrical joint compound

Waterproof band


The kit contains 1 band.

Head for a breaker hammer (SDS-max)


The kit contains 1 head
Weight and package of ZZ-000-030 kit
Weight of the complete kit is 45 kg.
Packed into three pieces packages:
pins in two round packages by

1.52 * 0.1 * 0.1 (* W * H, m), weighing 20 kg

components in a box

0.3 * 0.2 * 0.15 (H * W * H, m), weighing 5 kg


 
Related Articles: