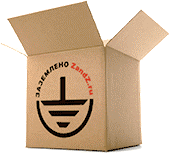 A universal modular grounding kit ZANDZ is intended for organization of a one-point or three-point grounding device for residential buildings (houses, cottages), for telecommunication and power facilities, mobile and stationary phone operators, private networks, industrial plants.
This ready-to-use kit contains all the components necessary for installing the earthing switch, which can be easily interfaced with each other.
Price - 25 150.00 rbl.
Detailed description
Information about the kit and components is presented on an individual page" Modular grounding".
Installation options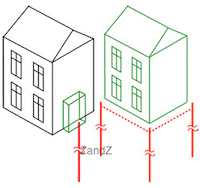 The universal grounding kit ZZ-000-015 can be mounted in the form of one 15-meter deep electrode or in the form of three, spaced from each other, electrodes of 5 meters each: 4.5 + 4.5 + 6.
Components
Threaded copper coated grounding rod (D14; 1,5 m)


The kit contains 10 pins

Coupling thread


The kit contains 10 couplers

Starting tip


The set contains 3 tips

Guide head for a breaker hammer


The set contains 2 heads

A clip for conductor's connection


The set contains 3 clips

Conductive lubricant


The set contains one electrical joint compound

Waterproof band


The kit contains 1 band

A head for the breaker hammer (SDS-max)


The set contains 1 head
Weight and package of ZZ-000-030 kit
Weight of the complete kit is 24 kg.
Packed into two pieces packages:
Pins in a round pack

1.52 * 0.1 * 0.1 (H * W * H, m), weighing 20 kg

components in a box

0.3 * 0.2 * 0.15 (H * W * H, m), weighing 4 kg


 
Related Articles: