23.10.15
To hold any kinds of works at the "field" and offsite events, lightning protection of lodges and mobile equipment should be performed taking into account the possible risk. For such cases, mobile lightning protection system are already used. Let's consider one of these systems.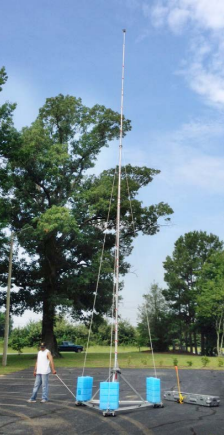 The American company LBA Technology, Inc., working in the production of antenna and related equipment, has recently expanded its series of portable systems  of lightning protection (PLP) with a new product. The new product is StrikeMaster® PLP-38-MOB -a quickly mounted folding lightning protection kit, designed for quick creation of a protective zone over the object or equipment. Thanks to the folding design and the handy box included into the kit PLP-38-MOB is easy to transport.
The design of the new product in the expanded form has a form of a standard lightning rod with catenary wire support, ready to take lightning upon itself. In addition, this system is also equipped with the well-known technology of "dissipation" ("Scattering of thunderstorms"), which reduces the risk of lightning formation over the object to be protected. To deploy the system no additional tools are required. Intallation by two persons, who have an idea about the design, takes less than 30 minutes. The assembled PLP-38-MOB has a height of 11.6 m and a width of 3.3 m at the base. Packaged in a box, the kit has a length of 2.2 m, width - 0.5 m. and 0.46 m. The weight together with the cover is 123 kg. Plastic blocks used as the foundation, are packaged in a bag, their weight in the unfilled state is 11.4 kg.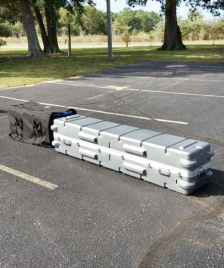 Plastic blocks are the foundation of the lightning rod, which are filled with water during the installation for a reliable fixation of the mast at the site. It provides resistance to wind load with the force of 36 km/h.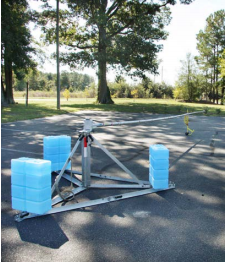 All kit components are resistant to corrosion and can be used for offshore facilities and in other adverse climatic conditions.
---
Related Articles: