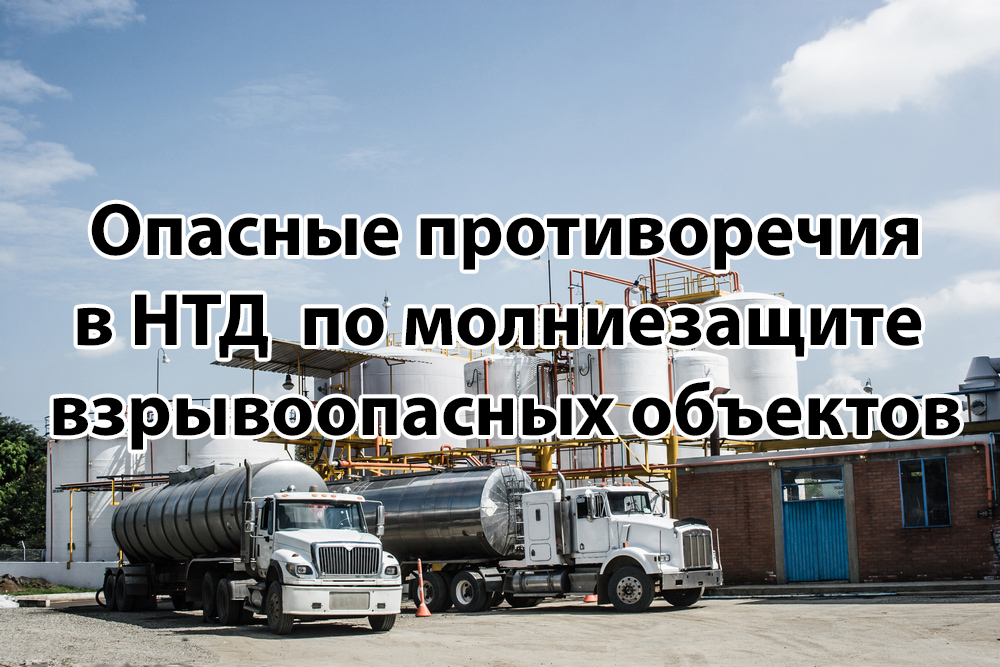 Опасные противоречия в НТД по молниезащите взрывоопасных объектов - Hazardous Discrepancies in Regulatory Documents for Lightning Protection of Explosive Facilities
Any industry has its own specifics, which are hard to reflect in the national documents, and industry-specific documents are intended exactly for this. A wish to develop separate regulatory documents for lightning protection is appropriate. This task does not seem to be too hard when the specialists are at work. Unfortunately, they are often replaced by top managers who often have too extensive albeit slight knowledge. As a result, old errors are transferred from documents to documents and new errors are repeatedly introduced.
Engineers of the ZANDZ Technical Centre have encountered this during the preparation for the webinar dedicated to lightning protection of explosive facilities. Then, an idea to analyze typical industry-specific documents for lightning protection has occurred for the industries where explosives and hydrocarbon fuels are widely used. The result exceeded expectations. It emerged that regulatory documents contain erroneous instructions, and such errors are confirmed even in the study books for lightning protection and are evident for any engineer who received a good score for the general physics course.
Surely, we cannot list all errors as we will not have enough time for this. During the webinar, we will highlight the most typical and important errors. Moreover, we would like to draw the designers' attention to the regulatory documents' contents since it is not always appropriate to follow them strictly. Regulations are developed by the people who are also prone to error.
Register to learn more.
Speaker: E. M. Bazelyan, D.Sc. (Eng.), Professor; G.M. Krzhizhanovsky Energy Institute, Moscow
Date and time: November 10, 2021 at 11:00 Moscow time.
Duration: about 80-90 minutes.
Venue: Online
Price: free, registration is required.
---
Related Articles: