PowerPro BCD TNC…TNS…TT
Combined devices PowerPro BCD provide protection against both direct lightning currents, and of the induced surges. Limiters of this series are intended for installation in low-voltage power supply systems for industrial, commercial and residential areas. In small structures, the offered device may be a single overvoltage protection, in particular in GSM rooms, in container spaces and in individual houses.
Designed for installation in zones 0A-2, in accordance with the concept of protecting zones (IEC 61312).
fast installation, compact modular design;
patented sealed gas discharge tube;
no blow hole - it is not required to keep the permissible distance to other devices;
lightning current limit up to 100 kA (10/350 ms);
follow current limitation;
very high insulation resistance Riso > 10 GOhm;
voltage limit <0.75 kV to 1.0 kV;
V-shaped connection is possible;
no leakage currents - can be installed in front of the counter;
optional contact of remote signaling system (FM version);
maximum reliability;
parameters independent from pressure and humidity;
great overvoltage withstand.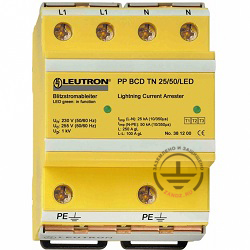 Combined SPD of class 1+2+3 for use in single-phase networks with TN neutral mode 230 V, 50 Hz
maximum lightning impulse current (10/350 ms) Iimp 50 k╤В╨е╨╕тХи╨░;
Limit voltage Up not more than 1.0 kV;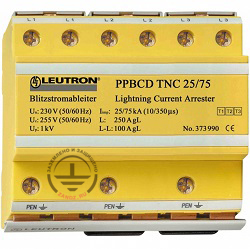 Combined SPD of class 1+2+3 for use in three-phase networks with TN-C neutral mode and voltage of 230/400 V, 50 Hz
maximum lightning impulse current (10/350 ms) Iimp 75 k╤В╨е╨╕тХи╨░;
limit voltage Up not more than 1.0 kV;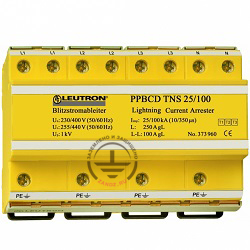 Combined SPD of class 1+2+3 for use in three-phase networks with TN-S neutral mode and voltage of 230/400 V, 50 Hz
maximum lightning impulse current (10/350 ms) Iimp 100 k╤В╨е╨╕тХи╨░;
limit voltage Up not more than 1.0 kV;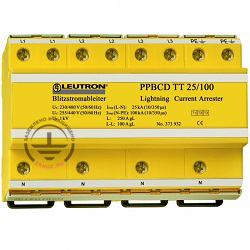 Combined SPD of class 1+2+3 for use in three-phase networks with TT neutral mode and voltage of 230/400 V, 50 Hz
maximum lightning impulse current (10/350 ms) Iimp 100 k╤В╨е╨╕тХи╨░;
limit voltage Up not more than 1.0 kV;
Submit a request for the selection of equipment or get a consultation