We have received a request from VolgaSpetsTekhno LLC for the supply of grounding sets ZANDZ ZZ-000-424 for the container factories. The Director of the Customer Company sent us a review and expressed gratitude for the professional assistance in the selection of equipment and the coordinated work of managers.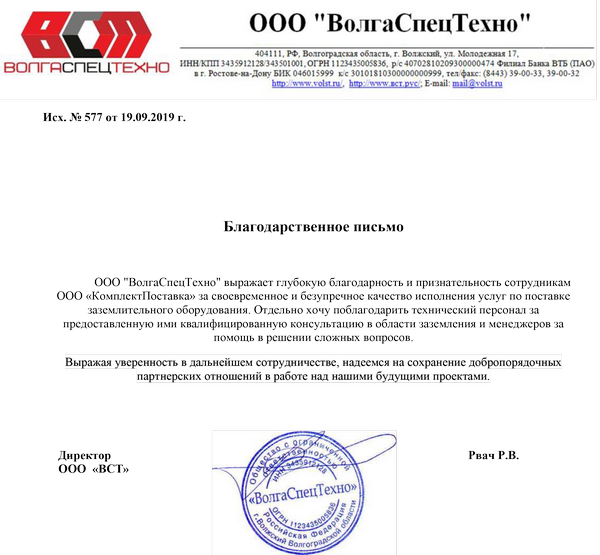 Благодарственное письмо ООО "ВолгаСпецТехно" выражает глубокую благодарность и признательность сотрудникам ООО "КомплектПоставка" за своевременное и безупречное качество исполнения услуг по поставке заземлительного оборудования. Отдельно хочу поблагодарить технический персонал за предоставленную ими квалифицированную консультацию в области заземления заземления и менеджеров за помощь в решении сложных вопросов. Выражая уверенность в дальнейшем сотрудничестве, надеемся на сохранение добропорядочных партнерских отношений в работе над нашими будущими проектами - A Note of Thanks VolgaSpetsTekhno LLC expresses its deep gratitude and appreciation to the staff of KomplektPostavka LLC for the timely and impeccable quality of the services for the supply of grounding equipment. Separately, I want to thank the technical staff for the expert advice in the field of grounding provided by them and the managers for their help in solving complex issues. Expressing confidence in further cooperation, we hope to maintain a good partnership in working on our future projects.
The examples of grounding solutions based on ZANDZ and GALMAR equipment can be found here.
---
Related Articles: