We have received a request from OOO "BESTER 24" to supply a large batch of electrolytic grounding sets ZZ-100-102. A representative of the customer has sent a feedback and expressed gratitude for professionalism and high technical skills of our employees..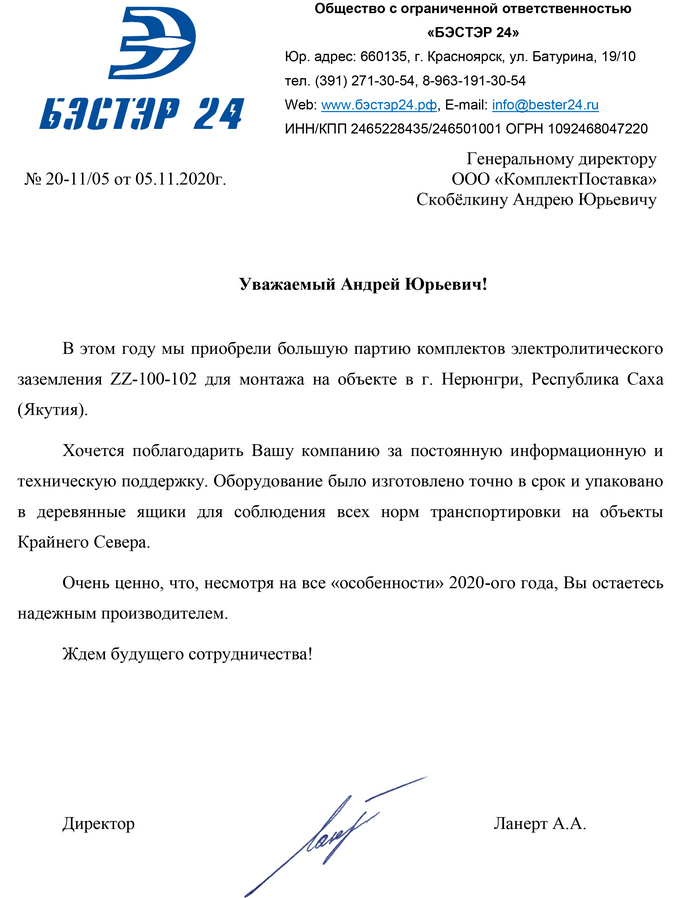 Общество с ограниченной ответственностью «БЭСТЕР 24» - Limited Liability Company "BESTER 24"
№ 20-11/05 от 05.11.2020 г. - No. 20-11/05 dated November 5, 2020
Юр. Адрес: 660135, г. Красноярск, ул. Батурина, 19/10 Тел. (391) 271-30-54, 8-963-191-30-54 - Legal address: 19/10 Baturina str., Krasnoyarsk, Russia 660135 Tel.: +7 (391) 271-30-54, +7-963-191-30-54
ИНН/КПП 2465228435/246501001 ОГРН 1092468047220 - INN/KPP 2465228435/246501001 OGRN 1092468047220
Генеральному директору ООО «КомплектПоставка» Скобёлкину Андрею Юрьевичу - To: Director General of OOO "KomplektPostavka" Andrey Y. Skobyolkin
Уважаемый Андрей Юрьевич! - Dear Andrey Yurievich,
В этом году мы приобрели большую партию комплектов электролитического заземления ZZ-100-102 для монтажа на объекте в г. Нерюнгри, Республика Саха (Якутия). - This year, we purchased a large batch of electrolytic grounding sets ZZ-100-102 to install at the facility located in Neryungry, the Republic of Sakha (Yakutia).
Хочется поблагодарить Вашу компанию за постоянную информационную и техническую поддержку. Оборудование было изготовлено точно в срок и упаковано в деревянные ящики для соблюдения всех норм транспортировки на объекты Крайнего Севера. - I would like to thank your company for constant informational and technical support. The equipment has been manufactured exactly on time and packaged in wooden boxes to comply with all transportation standards for the Extreme North.
Очень ценно, что несмотря на все «особенности» 2020-го года, Вы остаетесь надежным производителем. - We appreciate that despite all "surprises" of 2020 you remain to be a reliable manufacturer.
Ждем будущего сотрудничества! - Looking forward to further cooperation!
Директор /подпись/ Ланерт А.А. - Director /signature/ A.A. Lanert
The examples of grounding solutions based on ZANDZ and GALMAR equipment can be found here.
---
Related Articles: