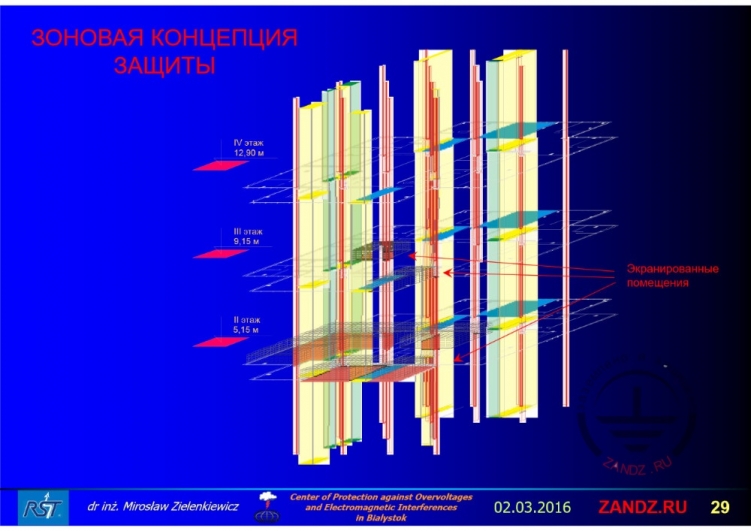 Shielded premises
 Zonal protection concept
- It is one of our projects. It is a view from a high-rise building.  Television building, which was being built and it is seen here, I will enlarge the picture.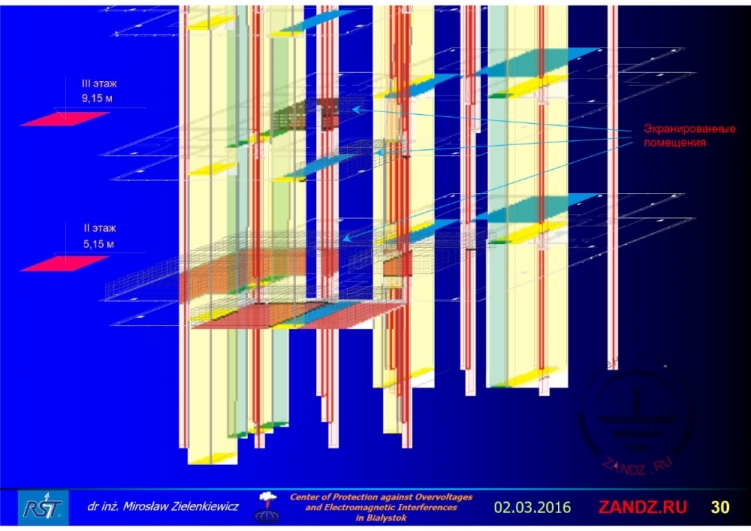 Shielded technical room
- It turned out to be not as we wanted. It is written on the right- shielded premises. And one technical room. The first, the second, the third, the fourth- studios, they are shielded. And it happened so, that lightning stroke into the object, and the devices were not damaged. The shields stopped for some time. But then they recovered and nothing was damaged.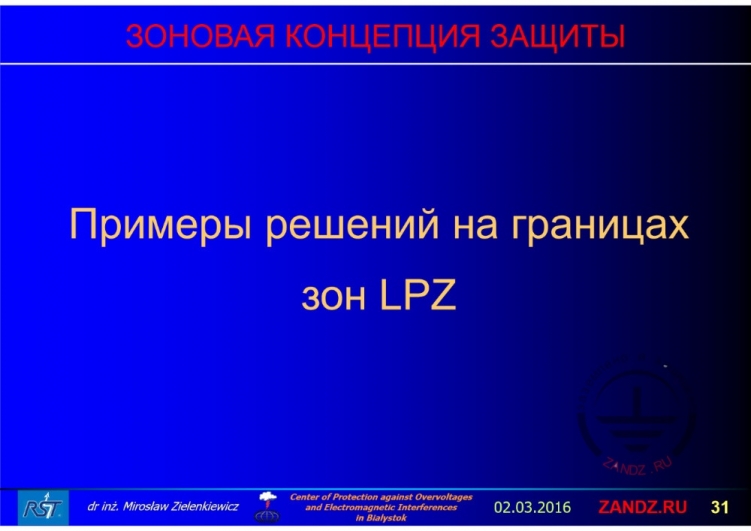 Examples of solutions at the borders of LPZ zones
 Zonal protection concept
Examples of solutions at the borders of LPZ zones
- Let's see a few examples of solutions at the borders of zones of practical examples.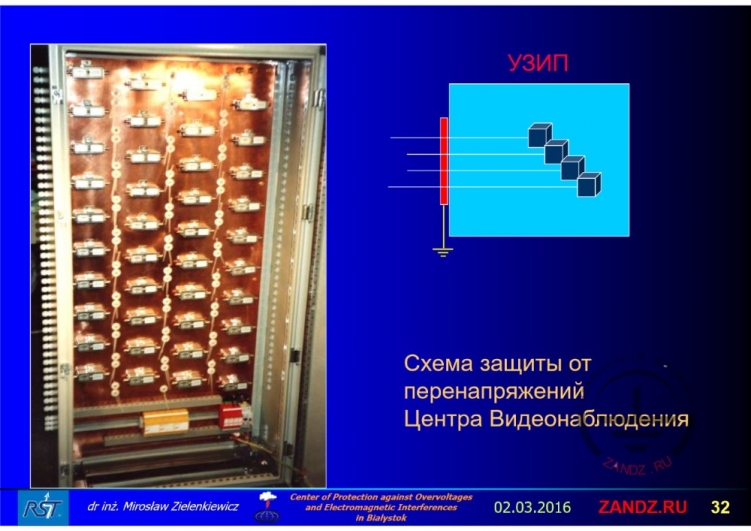 Surge protection circuits
 Surge protection circuits of a Video Surveillance Centre
- For example, SPD at the input of cables of a video surveillance centre. I don't remember if it was a bank or a border crossing point. If you look attentively, you will see a copper or brass slab, which additionally reduces the inductivity between these elements. Here we see protection elements from power line and signal line overvoltages, managing the video surveillance system. And these are simply elements of protection from surges for a video surveillance line.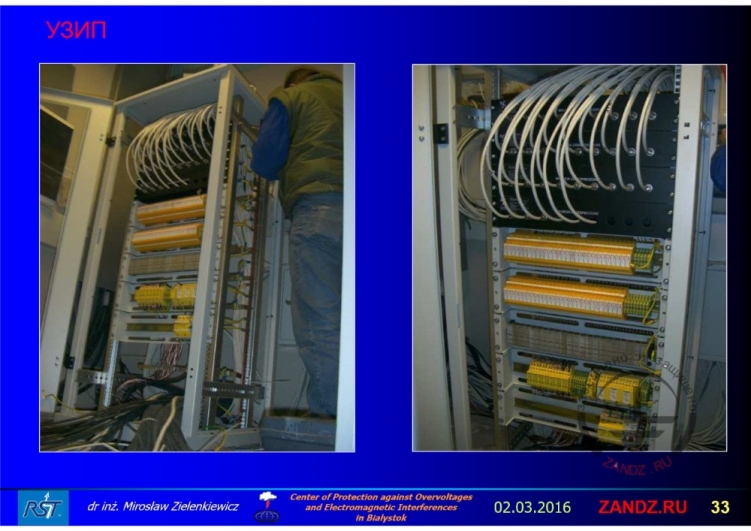 Protection of video surveillance system
 SPD - УзИП
- Another case is protection. It used to be the main football stadium in Poland. It is an input of all cables of the video surveillance system, loud-speakers, microphones in the premises of the central video surveillance point. Whole boards of surge protection elements, but there is no possibility to leave one cable unprotected, because the whole idea destroys.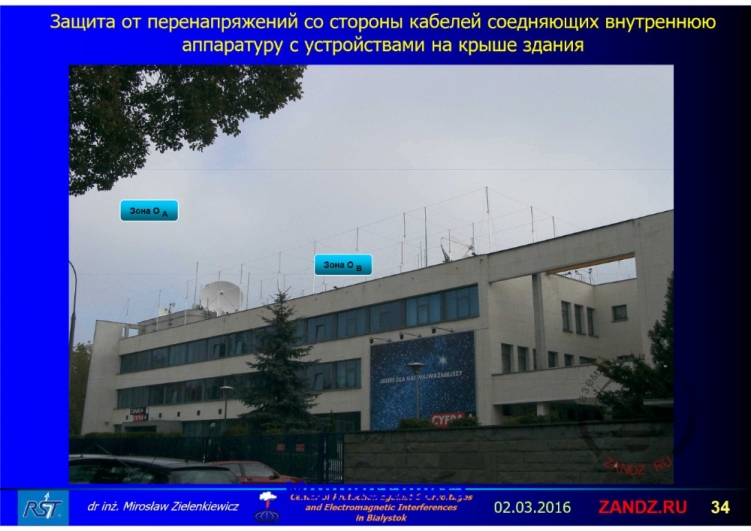 Lightning protection of a television building
 Surge protection from the side of cables connecting the interior devices with the devices on the roof of the building
- Television building, an old one. Zone 0A is seen from the outside, and the system, antenna system. There are many antennas under the high lightning protection mesh on the insulated lightning protection elements.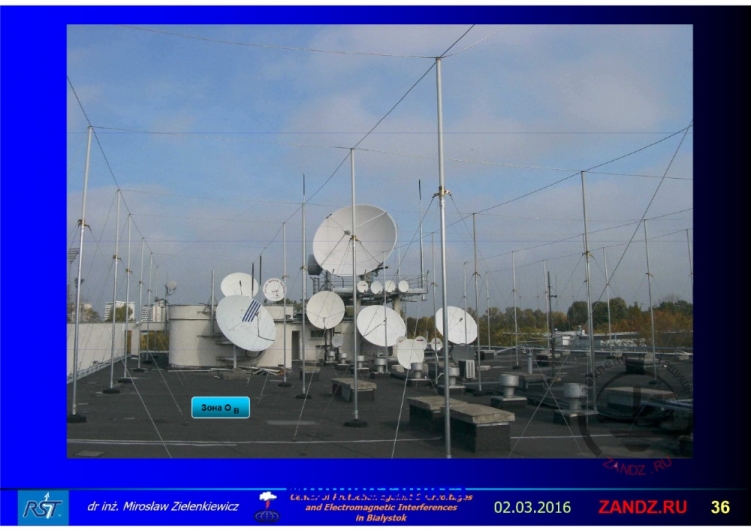 Insulation inserts
 - If we look at the roof, we will see there are insulation inserts here. People can work without problems here, not being afraid of being struck by lightning. And on such roofs, people do something every day. There is a plenty of equipment there.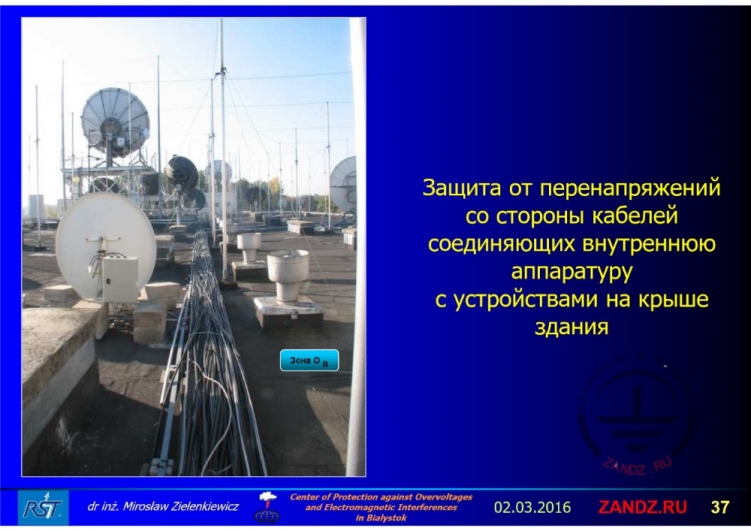 Cable protection on the roof
Surge protection from the side of cables connecting the interior devices with the devices on the roof of the building
- We can ask ourselves a question: how do cables, which are many, enter the object?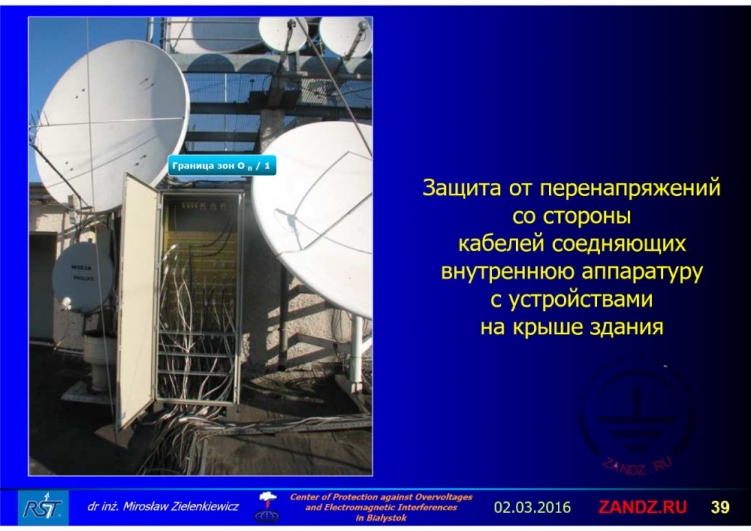 Special board protection
 Surge protection from the side of cables connecting the interior devices with the devices on the roof of the building
- We see the solution here. A whole special board in which all the cables are protected with the help of specially chosen surge protection elements for high frequencies.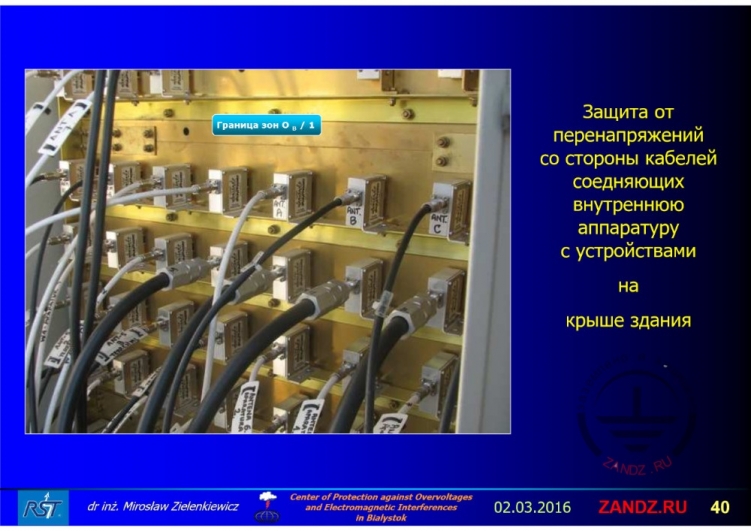 Protection from the side of cables
 Surge protection from the side of cables connecting the interior devices with the devices on the roof of the building
- We have special offers from American companies here. And if we look at the slab, at the main equipotential bonding bus in this point - it is just brass. It doesn't corrode from the outside. We oiled it with special oil conducting all points ot connection of these elements so there won't be any need to hold maintenance and so the system would protect itself.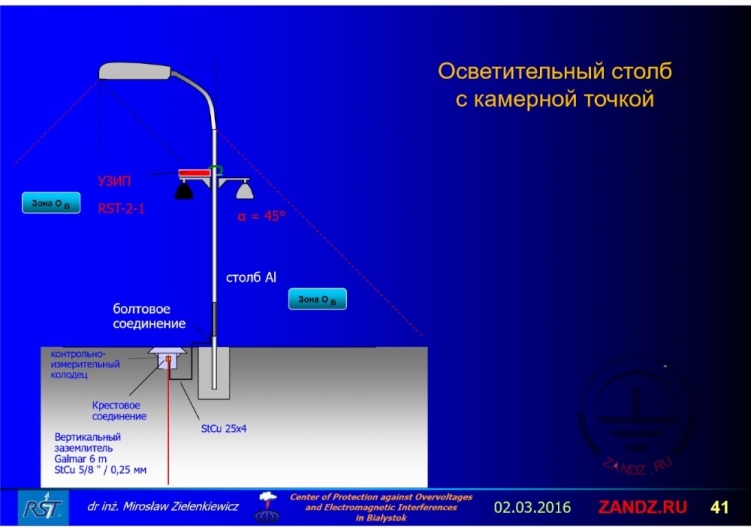 Lighting post with a camera point 
Болтовое соединение – bolt connection

Столб - post

Контольно измерительный колодец – control measuring pit

Крестовое соединение -  cross connection

Вертикальный заземлитель – vertical ground electrode
- Example of such a zonal concept in case of a video surveillance point. There are two cameras in the protection zone of this post. And there is SPD protection common for two cameras from the side of cables. The common surge protection over the power supply network. And a separate one for signal lines in this point. We should always remember that surge protection system can't consume such energy appearing in overvoltages. We need to drain this energy by protection elements with the help of grounding. And here we have Galmar ground electrode which our friends use, and we in Poland collaborate with this company. Coppered rods are long-lasting and are connected with a copper-bonded tape to the post. And there is a special insert here so there is no corrosion in the point of touching the aluminium post with our copper-bonded elements.
style="text-align: center;">Camera point surge protection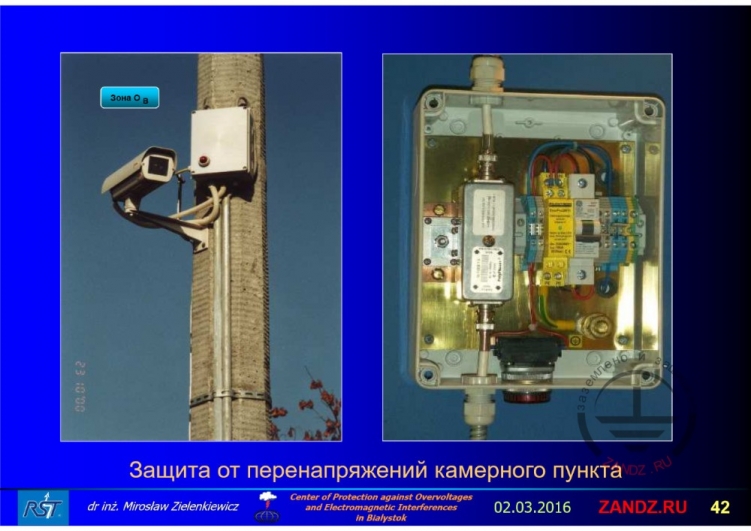 Surge protection of a camera point
-In practice, the point can look like this. There is a camera on the post. We have a box with a surge protection system and the old video signal protected here. Here we have a surge protection element. On this yellow element we see a green diode, which should light up when the variable resistor inside goes out of service. The question is, who will look there and see it is damaged. It is the main maintenance question. The answer is simple: nobody will never look there. Because it is difficult. Because in our solutions we always put a lamp there, which lights up and everybody sees it from the outside. Any person working on the object will see it in the evening time. A nurse will notice it in the hospital. We had many cases when they said - the lamp is on. Please look, maybe something is wrong there.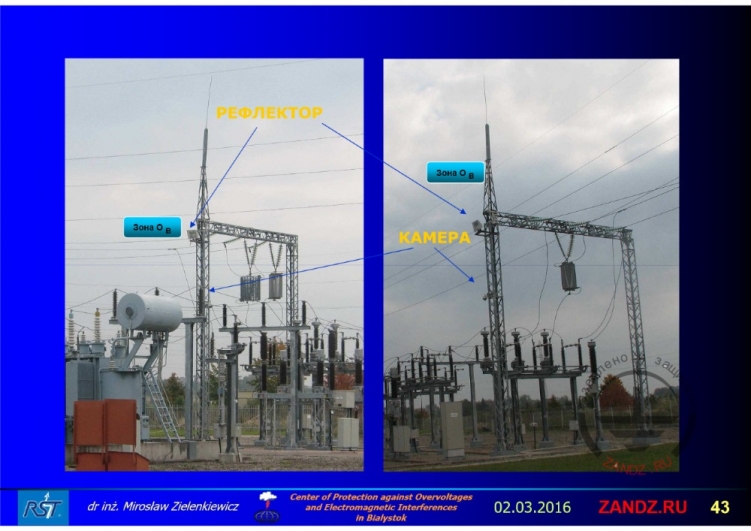 Example of a lamp reflector and a camera
Рефлектор - reflector

Камера - camera
- It is a more serious object, it is a substation about which we've been talking. Look what can happen at this object, if we don't have the knowledge I told about. Here we see an example of a reflector and a camera which guard the object in the evening. And the question is as follows - we have a lightning rod, we see it and the question is: either to put a reflector and a camera in this point or it is possible not to mount these devices on the way of direct lightning current flowing into the object? I think you can answer this question yourself. It was the last question for today. I see I talked more than we were going to. I am sorry Alexey and if there are any questions, I am ready to answer them.
Questions and answers
- Yes, thank you Miroslav for a good report. I don't see any questions in the chat yet. Dear colleagues, you can write your questions in the chat. The chat is in the left bottom. If you have any questions later, please contact us by email. I will write the e-mail in the chat. We will wait for a couple of minutes and we'll try to answer them all.
- I can add that this introduction report on my estimation is necessary to tell about surge protection of power supply circuits in the same words. And we will surely talk about ordinary power supply lines, which enter the circuit objects. It is 230 V to 400 V now. You still have 220 V-380 V to my mind. And low current lines have many subtypes, so I think we will choose certain lines to talk about them later. So our Russian friends intoduced such a line of devices by "LEUTRON" company and we will focus on these elements later. And since our company has its products on low current lines - these are just protection elements by the company "RST", which I represent. We will show you the difference of these products from the rest. We will show why it is necessary to have your own laboratory today if you are a manufacturer and why it is necessary to pay attention to the parameters of such surge protection devices. I see Alexey there are no questions. Either the participants do not understand my Russian or everything is so clear?
-I think everything is OK with the language. All is clear. As for the questions, maybe the questions will appear at the next webinars, the topics of which Miroslav has just named - surge protection of power lines and low current lines. There will be surge protection of data transmission systems in the end. Dear colleagues, if you have any questions, please ask them in the chat. Wait a second. I see there are some questions coming. Two questions. Miroslav, let's try to answer them.  The first question from Vorobiev Oleg. He is asking: were there any changes in IEC 62305 after 2010 or not?
- I will look now, OK? Give me a second. I will enter to the Internet and answer you quickly. I know that this year, last year, we translated it into Polish. It is very important, because the changes are now introduced in English but not all people of my age now it. The young ones do. Give me a second, I will put the number into our standard committee on Russia and see. Yes. It looks like this. The fourth part is 2011, and this is not IEC standard, I am talking about the European one. IEC is 2010. You are right. So after 2010 I see no changes in IEC. We are all not very interested in IEC; we are interested in Cenelec (European Committeefor Electrotechnical Standardization responsible for the European standards in electrical technics). Our standards are marked by EN - EuropeanNorm. No, I don't see any changes after 2010. What is the next question? 
- The next question is from Krasnoborov Dmitry. Question: "I would like to know in what measure the system of auxiliaries and the distribution device 0,4 kV at a substation is protected?". You mean with the help of SPD. 
- With anything. Ok I get it. In any system - either it is auxiliaries or any other supply; any signal at a substation is protected by the same way. If we return to a substation, we do not create anything else here. See slide 26. Everything is simple. The cables that cross the borders of our building, they are protected - this should be considered. There are many of them at the substation. But we are working with a huge electric station. In Russian it will be hydroelectric power station. There are plenty of cables there. If to run them in the ducts, which are protected from direct lightning current impact and electromagnet effects from the outside, then it will be easier. If not, then we will have to put surge protection per each cable core, meaning that power supply cables have much more cross-sections than low current cables. Because if the pipe is of a greater diameter, there will be more energy over this cable. Because there will be more water in the pipe. That is why we need to protect the auxiliaries as well. If we build a new object and knew everything we talked about today. We simply limit the number of external cables in this object to a minimum. 
Have I satisfied you with my answer?
-I believe, yes. Now Dima will comment in the chat. Yes, I see the comment: "Yes, thank you". No more questions. Colleagues, let me repeat myself. If you have any questions about this webinar or after watching the video recording, you can send them to our email address; you can see it in the chat. I will put it in the chat again. I think everybody knows it - info@zandz.ru. And I am inviting you to take part in the next webinars, in particular on this series of webinars on surge protection. I will send the link to all webinars and to the recording of this webinar to the chat. The link is there. Please sign up and visit our new webinars, ask questions and get answers. I think we can finish here. Thank you very much everybody. Thank you very much for a wonderful webinar, Miroslav!
-Thank you for your attention! You are welcome to come to the next ones. Thank you!
-Good bye!
Do you have any questions left? Send them to our technicians and you will receive detailed and reasoned answers.
Related Articles: