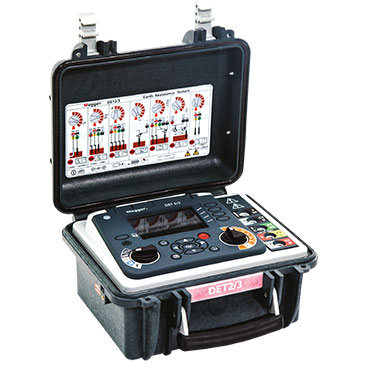 Megger company presented a high-performance kit for measuring resistance of the ground electrode and ground resistivity. DET 2/3 model allows to get precise results in the severest conditions.
The new product is easy to use and perfectly fits for a wide range of use, starting from testing of on-ground connection systems and finishing with holding archeological and geological researches. Perfect chances to detect errors, caused by disturbances in the ground, is the main advantage, as well as a large colorful screen with the information in both numerical and graphical format on it.
DET2/3 corresponds to the standard IEEE 81 and fits for grounding and lightning protection testing. It ensures measuring of the ground resistance in the range from 0,001 Ohm to 20 kOhm with a pitch of 1 mOhm. The working frequency ranges from 10 Hz to 200 Hz with a pitch of 0,5 Hz. The function of automatic adjustment allows users to hold tests at a frequency with a minor noise factor. The testing frequency, testing current and filtration can be adjusted in a manual way in order to optimize the results in severe conditions.
DET2/3 has a large volume of internal storage, which allows to rapidly calculate the resistivity and can store a large volume of data (more than test results per day). These results can be uploaded to a USB-stick or to a computer directly using PowerDB software.
The device supports two, three and four-wire measuring of ground resistance, and also three and four-wire measures by ART method (attached rod technique) and no contact measurings. Besides, it is possible to hold repeated measuring without a need to reroute the system.
The device has a solid structure and IP65 protection class in a closed state and IP54 in an open state. DET2/3 is equipped with an in-built lithium-ion battery with a support of quick charing, which will last the whole day in standard testing conditions. The device can get power from a standard car "cigar socket" (12 V).
Contact our ZANDZ Technical Center for consultations and free help in calculating lightning protection systems and grounding of any complexity!
See also:
[ Код новостного блока для вставки на Ваш сайт ] [ RSS лента для подписки на новости ]
---