Apartment buildings are one of the most common objects that require a lightning protection system. If such a structure has metal structures on the roof, can it be taken into account when calculating the external lightning protection system?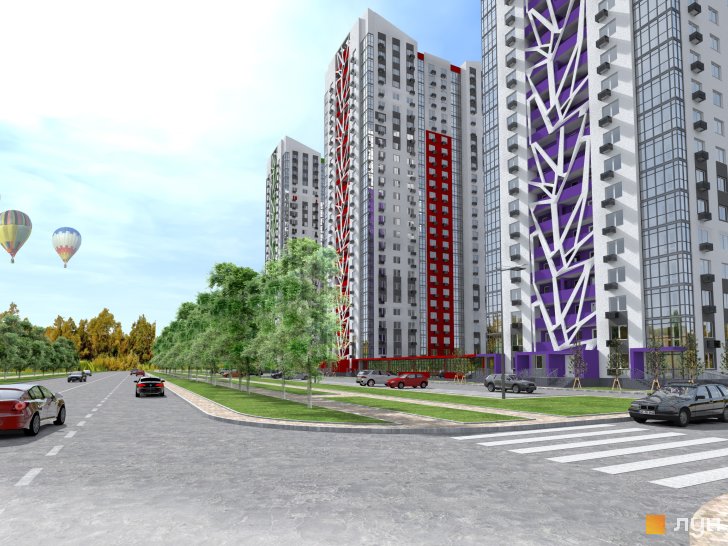 Yes, it can be. ZANDZ Technical Center regularly receives questions and requests to consider and propose solutions to the problems of lightning protection of apartment buildings. We will see one of these solutions below.
Initial data:
object: apartment building;
there is a metal dome on the roof of the object;
the natural reinforced concrete structure of the object is used as the grounding device.
Task:
to calculate the system of external lightning protection, taking into account natural metal structures.
Requirements for lightning protection of an apartment building:
The object refers to category 3 of lightning protection. System reliability must be not less than 0,9.
Solution:
A set of measures for the implementation of the lightning protection system of an apartment building with non-standard architecture:
Lightning protection of the object is made using air-terminals masts with the height of 10 m (ZZ-201-010-3), fastening to a ventillation shafts using the holders included into the kit, connection to the down conductor is made using clamp ZZ-202-002.
The metal structure and the spire on the roof are used as a natural lightning rod.
Copper-bonded steel wire d8 mm e is used as a down conductor (GL-11149). The down conductor is installed around the perimeter of the roof to equalize potentials.
Installation of down conductors is carried out with the help of clamp GL-11711 on a flat roof, GL-11703А - on vertical surfaces and parapets. Distance between the clamps- from 0.8 up to 1.0 meter.

 

To connect rolled metal over the length and in the mesh nodes, a universal clamp GL-11551A is used.
All metal elements, placed on the roof must be connected to the down conductor with the help of clamps GL-11545А. Stairs and hand railings are connected with the help of a clamp-bridge GL-11514.
Framework of down conductors with the diameter of at least 8 mm embedded into reinforced concrete walls is used as down conductors.
The framework of piles is used as a vertical ground electrode. Reinforcement cage pile cap is used as a horizontal ground electrode.

In accordance with the EIC-7 ed., P.1.7.55 - Grounding devices for protective grounding of electrical installations of buildings and structures and lightning protection of the 2nd and 3rd categories of these buildings and structures, as a rule, should be common.

Connection to the reinforced-concrete structure of the object is carried out using clamps ZZ-005-064.
Transient resistance between all metal communciations and structures must be not more than 0,05 Ohm at an obligatory annual control before the storm season in accordance with AD 34.21.122-87, paragraph 3.4.

 
Results of the calculation carried out with the software developed by the OJSC "Energy Institute to the name of G.M. Krzhizhanovsky (JSC "ENIN"):
the density of lightning strikes into the ground - 6 strikes / sq. km per year;
the total number of strikes into the system: 1.331.
total number of lightning breakthroughs – 0.09.
probability of breakthrough into all the system objects - 0.068.
system reliability - 0.932
the average time between lightning strikes into the system (years): 1.
average time between the breakthroughs, bypassing the protection (years): 17.
Result: the requirements for lightning protection of an apartment building have been met.
Figure 1 - system of lightning protection and grounding of an apartment building.
The list of required equipment and materials is given in table.1.
Table 1 - List of required equipment and materials.
Item.
Product item
Name
Quantity, pcs
Mass, kg
Note
1.
ZZ-201-010-3
ZANDZ Vertical air-terminal mast 10 m high with a set of 3 fastenings to the wall (stainless steel)
7
 
 
2.
ZZ-202-002
ZANDZ Clamp to the lightning rod D42 mm for down conductors (stainless steel)
7
0,43
 
3.
GL-11149-50
GALMAR Copper-bonded wire (D 8mm / S 50 mm²; coil of 50 meters)
5
0,41
In meters
4.
GL-11545A
GALMAR Clamp on the gutter for a down conductor (painted galvanized steel)
15
0,112
 
5.
GL-11551A
GALMAR Clamp for connecting down conductors (painted galvanized steel)
50
0,07
 
6.
GL-11711
GALMAR Clamp on a flat roof for the down conductor (plastic, concrete)
50
1 - 1,2
 
7.
GL-11703A
GALMAR Clamp to the facade for down conductor with its elevation above the clamp to 15 mm (painted galvanized steel)
250
0,02
 
8.
GL-11514
GALMAR Clamp-bridge on a gutter for down conductor (tinned copper)
20
0,076
 
9.
ZZ-005-064
ZANDZ Conductor clamp
(up to 40 mm)
11
0.312
 
Do you have questions whether it is necessary to calculate a lightning protection system for an apartment building with a non-standard roof? You're your request to info@zandz.ru.
See also:
---