26.12.16
Dear colleagues! The SvyazKomplekt company has launched sales of a device to protect equipment against voltage drops – the "Volt Control" voltage relay made by HS Electro. This device detects voltage deviations in the domestic mains supply, and turns off the electricity consumer if the voltage values are outside the set limits. Volt Control can be used at any facility with a small number of domestic appliances: in a private house, at an apartment or in a summer house. Let's tell you more details on it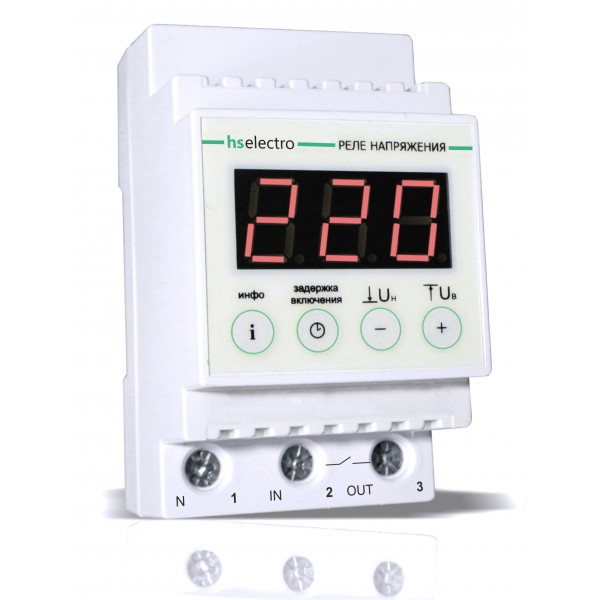 Реле напряжения - Voltage relay
Инфо - Info
Задержка включения - Rising delay
What voltages are fatal for household appliances?
Electrical appliances that are connected to domestic mains sockets are continuously under the risk of failure, and there are many causes for that. The main cause is voltage spikes up or down. Such deviations are of two types - accidental and regular. Accidental ones normally occur because of a breakdown at the transformer substation or loose "neutral" terminal in the general switching panel of the house. Regular ones may occur, for example, if a device of increased power use is connected to the communal mains, or too high a voltage is applied to the line. Both instant spikes and permanent deviations of voltage are fatal for household appliances.
How to select the right device?
In selecting a voltage-check relay, the two factors should be taken into account:
Load power. The total power of all connected devices shall not exceed the maximum power of the load relay (available are models ranging within 1.5 kW to 13.8 kW).
Thermal protection. It is required to control internal overheating and prevents melting of the housing. Overheating occurs if the device is operating under excessive load current for long time, or if the phase terminals are poorly connected
Advantages of the "Volt Control" voltage relay
Distinctive features of the "Volt Control" voltage relay by HS Electro:
5 year warranty;
installation onto a DIN-rail or socket; reliable
clamp connection;
information on breakdown – the relay memorizes the voltage value which caused power to be switched off;
correction of voltage meter – readings can be calibrated.

Protection of household appliances in a house is much easier than you think: the "Volt Control" voltage relay by HS Electro will help you!
---
See also:
---