The ZANDZ Technical Centre has received a request to calculate the lightning protection system for the logistics centre. Let's consider the solution offered by our specialists.
Initial data:
Facility: logistics center
30 m illumination supports are installed along the perimeter.
Soil resistivity: 100 Ohm*m.
The activities have been performed according to:
SO 153-34.21.122-2003 Instructions for Mounting Lightning Protection for Buildings, Structures, and Industrial Utilities (hereinafter referred to as SO);
RD 34.21.122-87 Instructions for Mounting Lightning Protection for Buildings and Structures (hereinafter referred to as RD).
The protected facility is classified as a conventional facility in terms of lightning protection according to SO and to Category 3, Protection Zone B according to RD.
A set of arrangements ensuring compliance with the lightning protection requirements for the logistics center is based on the following solutions:
- installation of 1 x 14 m standalone lightning protection;
- existing 30 m illumination supports are used as lightning arresters;
- protection radius and heights based on which protection zones B according to RD are generated, are shown in Fig. 1.
For a standalone lightning arrester, the grounding arrangement is installed as:
- a horizontal grounding electrode for the current flowing in two directions at 90 degrees between them. The grounding arrangement is made of a corrosion-resistant steel zinc-plated bar 5 x 40 mm, installation depth 0.5 m;
- in each direction, at the distance of about 5 m from the lightning arrester, one vertical electrode 3 m long is installed, and as a third vertical electrode, an embedded part of the lightning arrester foundation is used;
- interconnection of horizontal electrodes, with vertical electrodes and with lightning arresters is performed using clamps ZZ-202-012.
Ground terminal resistance calculation:
Vertical grounding arrangement resistance:

Верт - Vert
Экв - Eq
Ом - Ohm
where
ρ  is equivalent soil resistivity, 100 Ohm*m;
L is vertical electrode length, 3 m;
d is vertical electrode diameter, 0.014 m;
T is depth;
t is distance from the ground surface to the grounding electrode, 0.5 m;

м - m
Horizontal electrode resistance:

Гор - Hor
where
ρ is soil resistivity, 100 Ohm*m;
b is horizontal electrode width, 0.04 m;
h is horizontal electrode depth, 0.7 m;
Lгор is horizontal electrode length, 10 m.
Electrical impedance of the grounding arrangement:

ЗУ - GA
where
n is number of vertical electrodes, 2 pcs; horizontal electrode, 1 pc;
kисп is a set utilization ratio, 0.81;

estimated resistance of the grounding arrangement is 9,75 Ohm.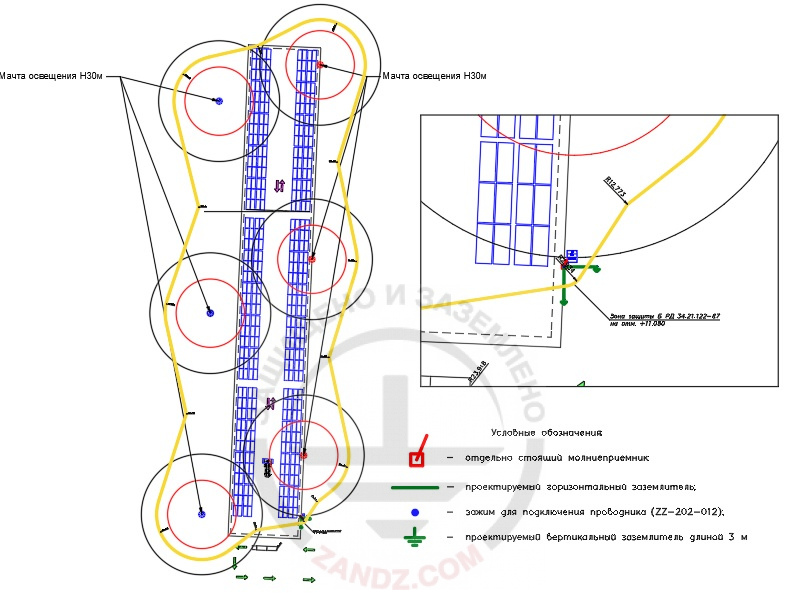 Мачта освещения H30 м - Illumination mast H = 30 m
Условные обозначения - Legend
- отдельно стоящий молниеприемник - standalone lightning arrester
- проектируемый горизонтальный заземлитель - horizontal grounding electrode to be designed
- зажим для подключения проводника - clamp for wire connection
- проектируемый вертикальный заземлитель длиной 3 м - 3 m vertical grounding electrode to be designed
Figure 1. Layout of grounding arrangement parts.

Table 1. List of materials.
Do you have any questions about lightning protection of the logistics center or other facilities? Please, contact the ZANDZ Technical Center!
---
Related Articles: