At the beginning of the century the company Lightning Eliminators & Consultants, Inc (USA) developed a unique device for the protection of oil storage tanks with floating roofs from sparks and static discharges.
This device - Retractable Grounding Assembly (RGA®) has become extremely popular and is still in use around the world.
Retractable Grounding Assembly (RGA) is a coil with a flat grounding cable inside. The coil is attached to the tank wall (see. diagram below), and the cable from it is connected to the floating roof of the tank. Thus, the contact is established between the walls and the roof, which reduces the risk of discharges between them.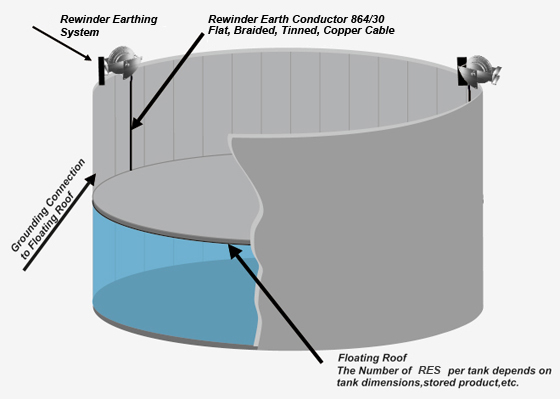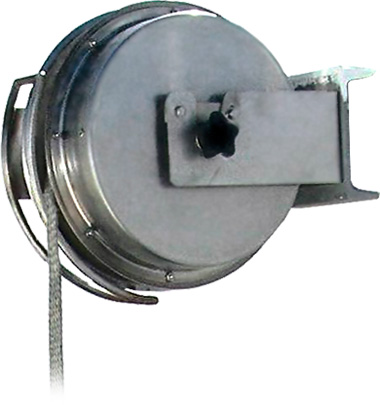 Why do we need this?
There is a problem with floating roof tanks to separate the roof from the grounding system. In contrast to the reservoir walls, which are in a static position and grounded externally, the roof has no connection to the grounding. RGA devices eliminate the problem.
What does Lightning Eliminators & Consultants, Inc have in store for us?
RGA devices were developed more than 10 years ago, and now we have new unique materials, liquids, and oil and gas industry has grown a lot. It makes us move forward and follow the progress. With their customers' help the employees of Lightning Eliminators & Consultants, Inc have taken into account all problems and details of RGA and were able to improve the device. This helps to meet the needs of consumers and of the industry in general. 
Although RGA® 75 and 55 RGA® were developed many years ago, they are still popular; this summer Lightning Eliminators & Consultants, Inc is going to launch its new product, RGA® 750.
Specifications and features of Retractable Grounding Assembly 750:
universal size suitable for all tanks with a floating roof;
new improved springs for retracting the cable,increasing the average cable retracting force by 340% compared to RGA 75 and by 600% compared to RGA 55;
it is equipped with an aluminum cable originally developed for use in marine environment, which helps to improve the resistance to corrosion and hydrogen sulfide (h2s);
prefabricated tightening reducing time and efforts for installation;
small size due to the use of the aluminum cable.
Abstract from article "Improved RGA for Floating Roof Tank Lightning Protection' by Kirk Chynoweth, technical director of Lightning Eliminators & Consultants, Inc: "Electrical cables in the environment where hydrocarbon is kept " ... electric cable connections in tanks for storage and processing of volatile oil products should have low resistance and long service life in harsh environments. Though copper wires provide low electrical resistance, they are subject to corrosion from caused by evaporation from oil products in the tank, natural atmospheric conditions and complex combinations of all above mentioned factors ... "
Watch the video to see the principle of operation (eng.)
Retractable Grounding Assembly 750 is perfect for lightning protection and grounding of storage and processing facilities for hydrocarbon fuel. For complete and reliable protection of oil and gas facilities you must install earthing devices and lightning rods.
---
See also:
---
Related Articles: