Sixth webinar of a series "Grounding and lightning protection: issues and problems arising in the design"
Webinar text. Page 2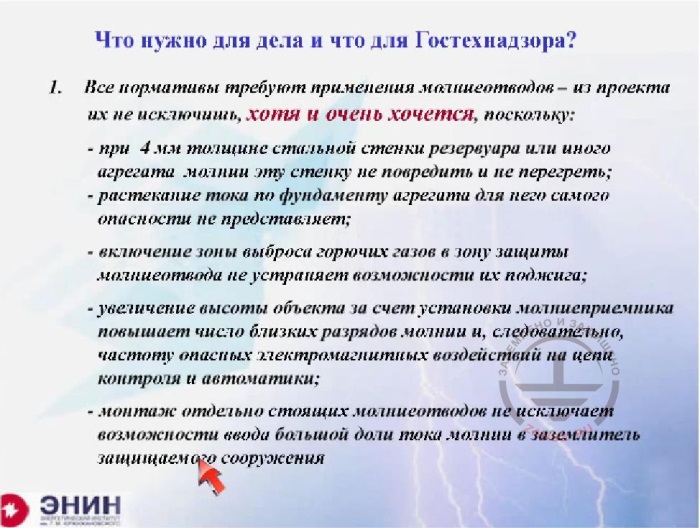 What is required for the matter and for Gostechnadzor?
So, if we now look at all this, I would like to summarize. And the result I would like to sum up in respect of lightning rods is as follows. Sorry, this is my personal opinion. And my personal opinion comes down to this. The best thing would be not to protect steel tanks with any lightning rods but to allow a direct lightning strike to hit into the steel tank,  if its walls are thicker than 4 mm. Because a lightning can do nothing to such a tank. Flammable gas emission, burning of combustible gases, we will talk about it more specifically later. Installation of lightning rods, even detached ones, still won't eliminate the problem. And it turns out so, that installation of lightning rods is not only pointless, it is, generally speaking, harmful. It's harmful due to the fact that I will put several high facilities,  attracting lightning, that will increase the number of strikes into them and will increase the electromagnetic interferences, which will influence the circuits of this tankfarm. We can't do this anyway. It is written in the standards, and so let's try to cut losses. Make it more or less well, meet all the requirements which are put on us and make the device of a small height and cheap if possible.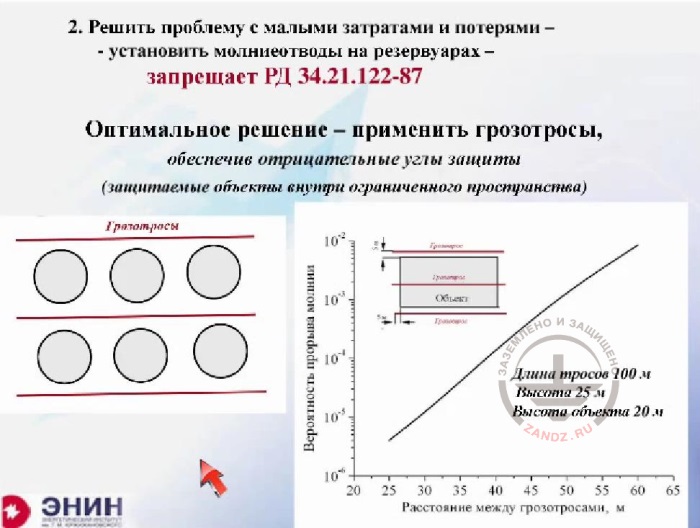 The ultimate solution - use of ground wires
I offer this traditional system, if you have a tank farm consisting, for example, of two rows of tanks. Make a catenary wire lightning protection, which is composed of three cables in this case with the following feature. External catenary wires are arranged behind the installation of lightning rods. There is a distance between them. There is a distance across and the distance along. The wires are longer than the space occupied by the tank farm. In such cases, the wires will ensure - as experts on power lines say - the negative shielding angles. And these negative shielding angles greatly increase the reliability of protection and greatly reduce the number of breakouts.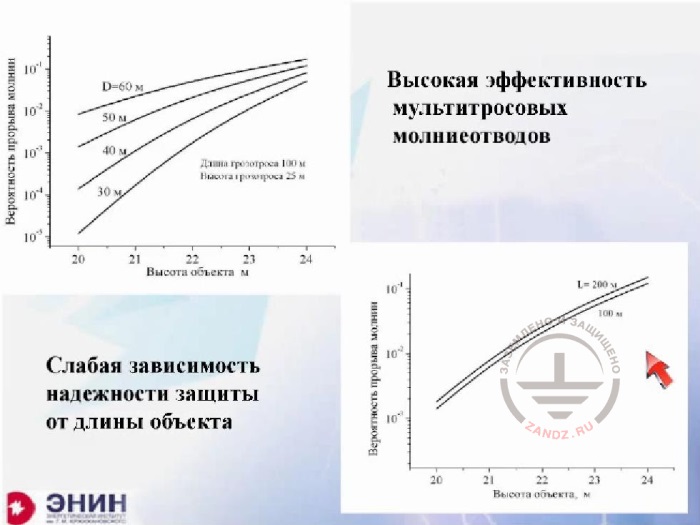 Efficiency of multi-wire lightning rods
I have to tell you one thing. If I make these wires longer. For example, instead of 100 m of wires, like in that example, I will take 200 m, then the protection reliability won't be significantly reduced. It will be almost the same. And that is catenary wire lightning protection system, when the wires are beyond the zone limits and they are put along the place occupied by the tank farm. I believe this protection system will both provide requirements of authorizing documents and will minimize costs. I believe I've finished the first section, Nadezhda.
Answers to questions after the first section
- OK, then the participants of the webinar, please be more active. If you have any questions to the first part, you can ask them now.
- We don't see questions, right?
- They are coming. When the autorizing document was being developed, there was not such a notion- reliability. I don't find any connection of realibility and the object here. If anyone knows, please let me know.
- Technically, you're right. Indeed, if you take AD 34, you won't find any pointing to reliability in the main text of the authorizing document. You can find them in industry standard 153 but not in AD 34. But AD 34 was always published with an explanatory letter, because in the main document was followed by the letter, explaining the reliability of lightning protection. Ansolutely seditious figures are given in this letter. For lightning protection A , the protection zone of A was 0.995, which is almost 0,999, and the value for zone B was about 0.99. You will see it in any printed edition. We checked the actual reliability and the reliability which I showed you in the presentation, we calculated the actual reliability and got it by the same methods which describe zones protection reliability in industry standard 153. The actual reliability of 0.8- 0.84 for Zone B and 0.96, not 0.995 for Zone A. This is how I can answer this question.
- So. It was the only question for now. Dear colleagues, if you don't have any questions to the first part of the presentation, I'd like to continue.
- Let's continue.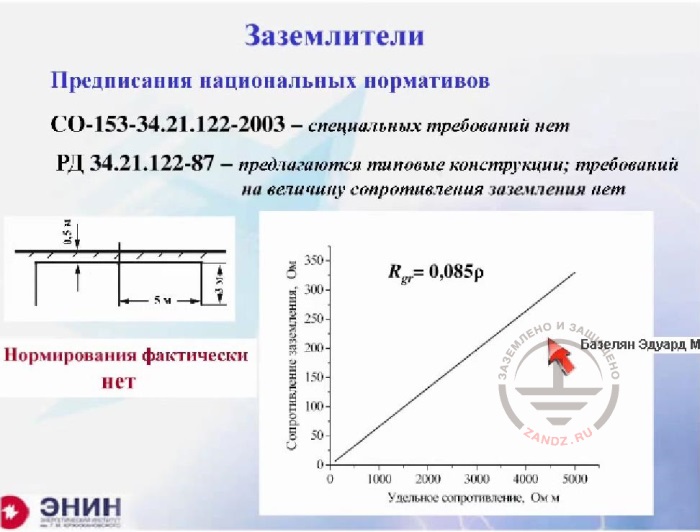 Ground electrode systems
Now let's talk about ground electrodes. Again, a standard phrase. Industry standard 153 offers no requirements. You see, I hate to say because there are absolutely no requirements in industry standard 153. But there are formal requirements in AD 34. It is not required to provide any ground resistance there.
- Eduard Meerovitch, let me interrupt you. Perhaps there was some kind of delay, questions are coming, and I see two now. I offer to answer questions to the first part now. The first one. Multi-wire conductor also increases the number of lightning strikes. Moreover, the impact of electromagnetic induction will cover the entire tank farm. There is such an idea.
- Okay, I will answer this question. So, first of all, I showed you that a multi-wire conductor rises above the tank farm at approximately 5 meters-  it is the maximum number that may appear here. If the lightning rod is 25 meters high, then 5 meters is - 20%. Because of this, the number of strikes increases. This figure must be squared, it will be about 40%. 40% compared to the lightning rods that you will have to mount in this situation. The exceedence of lightning rods over the tank farm will be approximately 2 times more, if not 3, than with catenary wire case. This question was specifically studied not in relation to tank farms but in relation to catenary wire lightning protection of an ultra-high-voltage substation, where the number of wires that had to be hung is about 5 times more than you need for tank farms. And it was shown that this is exceedence, there will be no increase in fact, for this reason. There will be a space-charge cloud over the wires that will create shielding cables over the territory of the tank farm. And the screening effect of the space charge, about which I am not saying anything now, will lead to the fact that the number of current rushes won't increase  but will decrease a bit, about two times But once again, I did not want to raise this issue simply because t it is not too fundamental. Now, regarding electromagnetic effects. The main electromagnetic effects encountered in the protected area, are connected to the spreading of the lightning current in the ground. When you analyze the certain situations and specifically study pickup effect, then your pickup effects are determined by currents that flow in the earth. You put lightning rods directly on the territory of the tank farm. And whether you want it or not want, the currents spread out over the area of ​​the tank farm. If you have catenary wire lightning rods, then you put the supports of wire lightning rods, I emphasize that on purpose, outside of the territory on the tank farm at the distance of 20-25 meters, at least. Moreover, you can direct all these currents in the direction of the tank farm. And then your pick up effects will not only increase, they will reduce, but of course you won't be able to reduce them to zero. But there will be some share of pick up effects associated with the current spread over the wire. My colleague is absolutely right here.
- You've already partially answered the next question. What to do if there are pipes of underground utilities with flammable liquids in the zone of the lightning rod?
- In fact, the thing is that if there pipes, you can put supports of catenary wire lightning rods anywhere. Supports of lightning rods have to be put, where they should be put. May I go on?
- Yes, I think you can continue.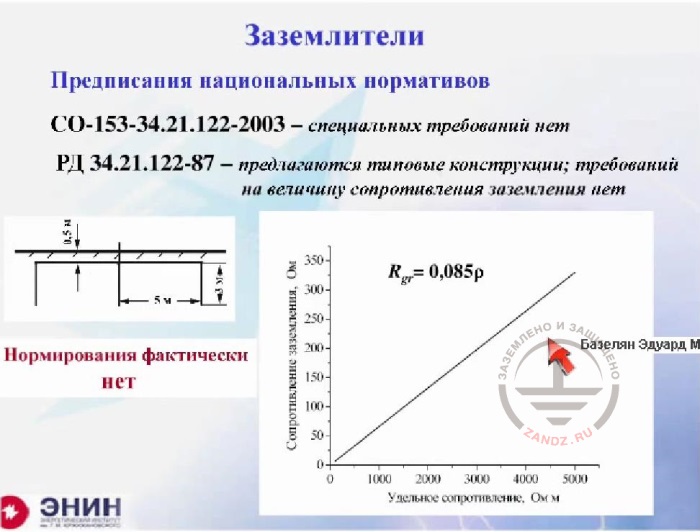 Ground electrode systems
- Can I? Now let's talk about ground electrode systems. AD 34 offers to give such a thermal ground electrode to the first category of lightning protection, which is shown in the picture. We discussed it once once with you. This ground electrode system is offered for all occasions for all soils and the ground resistance of such a ground electrode is shown on the right in the chart. And you will see that in bad soils, lightning rod ground resistance increases to hundreds of Ohms. In fact, the efficiency of the lightning rod won't change because of that. A lightning rod without grounding resistance of 100 Ohms and 300 Ohms and 10 Ohms will almost equally intercept all lightnings. The protective effect of this lightning rod doesn't depend on that.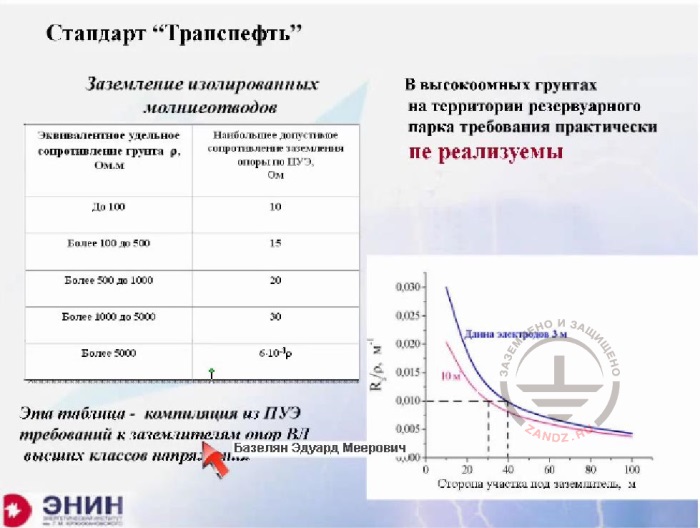 Grounding of isolated lightning rods
And what has been done in other places? It's really interesting. Again, the same standard of "TRANSNEFT". You can see a chart. Do you know where it is from? It was copied word by word from the EMP and it referrs to the ground resistances of high-voltage lines' supports. Only the authors know why this chart was shamelessly copied and pasted into the same standard. But the thing is as follows. If you try to provide the resistance which are described here. For example, in order to provide 30 Ohms in the soil of up to 5000 Ohm * m,  which are here, you will  bear completely crazy metal expenditures. The diagram next to the chart shows such a thing. What volume of metal should be all over hammered at the lightning rod to get such figures? It turns out that the size of the site will be about 50 * 50, if you hit three-meter rods, and about 30 * 30, if you hit three-meter rods. It is simply impossible to realize such a thing in a tank farm. It is incredible and noone will ever perform that. The requirement is completely meaningless. Let's now move on to the standard of "Gazprom"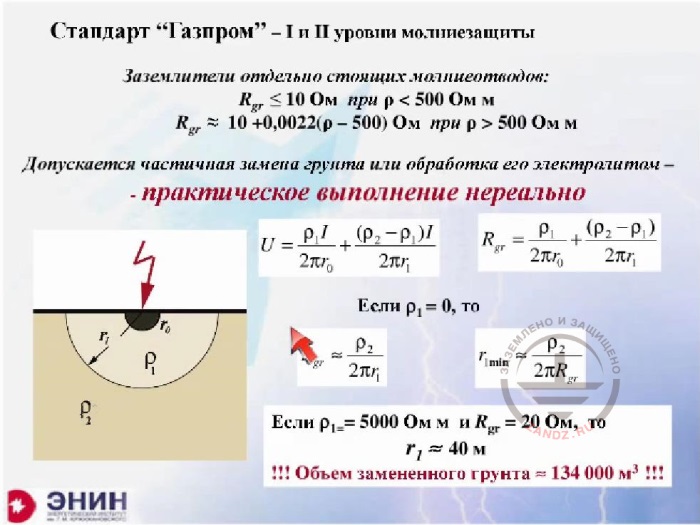 "Gazprom" standard - I and II levels of lightning protection
Here is what "GAZPROM" standard says. If your soil has a resistivity less than 500 Ohm m, grounding resistance of the lightning rod should be not more than 10 Ohms. If it is more than 500 Ohm m, it can increased according to the formula that is written here. But the outside figure here is 20 ohms. The authors of "GAZPROM" standard realized that it was impossible to do that in high-resistance soils. And so they wrote such a phrase that it may be either possible to make a chemical treatment of the soil, or replace the soil with any other. And when preparing for the workshop, I studied the information about what volume of soil should be replaced, I took the simplest case - a hemispherical ground electrode and saw what volume of soil must be replaced in order to match the requirement of "GAZPROM" standard. It turned out that it was necessary to take out and replace 130 thousand cubic meters of soil. That is more than 10,000 haulers. Who will do that? You see, it's worth a penny, a good penny, good penny at all times.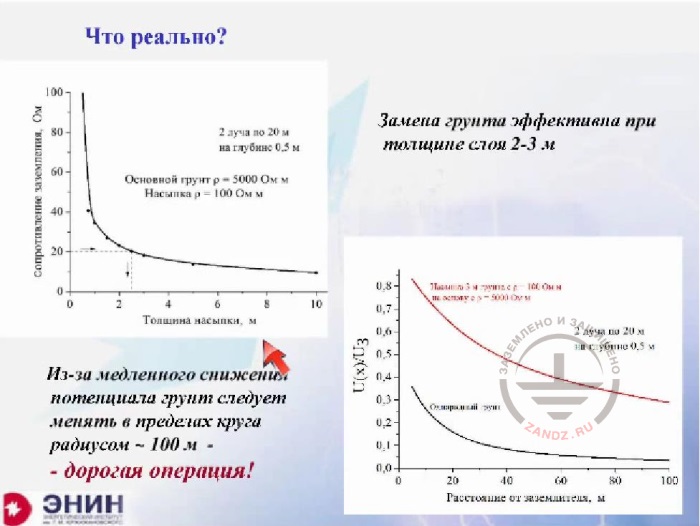 Soil replacement
What next? And if to do that over the surface, reduce the top soil layer? What can be done with the surface soil replacement or with the surface chemical treatment? I am studying this situation. My main soil is 5000 Ohm m. I use a very good soil - Black soil, with the resistivity of about 100 Ohm m . OK? And we get such a thing. If I replace the layer at the depth of 2 meters, I will get about 20 Ohms. But the question is different. On what area should the soil be replaced? And here's what we got. Where is it necessary to replace the soil? It is necessary to replace the soil where the potential that the lightning current creates is strong enough in comparison to the potential of the ground electrode itself. And now I see. If I have a uniform soil, its potential decreases very quickly. And if I have a two-layer soil, it decreases much more slowly. And in order to reduce it to at least 30% of the electrode potential, I have to replace the soil in a radius of 100 meters. I did not count the cubes, you can count yourself. The circle of a radius of 100 m 2 meters deep. We  will also get a very good number of haulers. And therefore you won't be able to fulfill these requirements when you begin this project. And then the next question arises. What to do?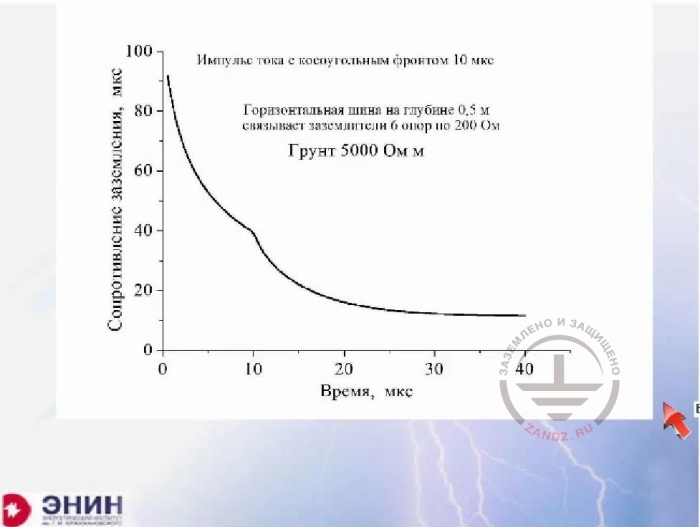 Current pulses with a bevelled front
You know, what I offer to do? I offer to do the following. The solution that I offer you is only suitable for catenary wire lightning rods. You remember, we had three catenary wire lightning rods. Therefore we have at least 6 supports. Right? And these six supports, I will make ground resistance, which we get. I came out of the fact, that poor soils will give ground resistance. The soil of 5000 Ohm m  is very poor. I make a conventional ground electrode, which essentially presents itself the foundation of this very wire support and we get 200 Ohms. And now I offer you to do the following. I offer to do a simple thing. Combine horizontal ground buses of all 6 supports. If I do such a thing and formally measure with a conventional measuring device, which operates at a low frequency, I will get the ground resistance of about 10 Ohms. I will meet all the requirements. And then I can be caught in the act and be told: "Yes,  you met the requirements with the DC, but generally speaking,  the ground electrode of the lightning rod works in a pulse mode. And it can be a completely different situation with the pulse mode". And the man who catches me in the act will be right. First of all, the normative document standardizes only this value in the steady mode, and secondly, it's not that bad in the pulse mode. Look, if we talk about impulse grounding resistances, the only figure referring to that is in the IEC. And the IEC offers the figure of not more than 80 Ohm for power lines. These 80 Ohm will appear in two microseconds of the ground unit operation. So looking from the formal position, we will surely satisfy all the current requirements. And you see, this interconnection by the horizontal buses, is incomparably, immeasurably cheaper than the prescribed dredging. If inspection bodies measure this construction, everything will be OK. That's what I wanted to say on this issue and I am ready to answer your comments. Do you have any?
Answers to questions after the second section
- Yes, we have another break. Please recollect what questions you would like to clarify on the second part, relating to the grounding devices. We'll wait a bit. -Let's wait a minute, I will have some water meanwhile.
- Since there are no questions I think we can start,
- You know,  I still want to go back to this. The use of catenary wire lightning rods, supports of which are united by horizontal buses is a really respected solution. I think it is worth recommending. The most important thing - no one will have any objections, you know? Any normative document satisfies this requirement.
- There is a question on the measurement of impulse response of grounding devices. With the help of what device it should be measured?
- You Know, we have a device in Russia, which is suitable for this purpose. There is a company in Russia that is engaged in lightning protection. It's a Moscow company - ELNAP. This company developed and certified a number of measuring devices, including a device called the IK-1. This device is suitable for measuring pulse ground resistances. It is quite simple, it works with small currents it is safe in general and as far as I know ELNAP willingly sells these devices. So, if you want, let the company thank me for the advertising, which I made for free.
- There is another question. What should be done from the point of view of security, not formalization?
- You know what? If we talk about security, connected with people, then today's requirements to lightning protection do not provide safety of people. No matter what ground resistance the lightning rod has, step voltage may be dangerous for humans. I do not know any requirements of any document that would provide this safety. And the reasons is also in the following. People who deal with grounding are not that bad. But in order to say what is safe and not safe, physiologists need to  say what people can stand and what not. Lightning current pulse creates overvoltage that lasts approximately 100 microseconds. 100 microseconds - it's a 10 in minus fourth power of a second. But the existing regulatory requirements to the electrical safety, refer to the exposure time, at least 100 times greater. You know what to do then? High-voltage engineers will find a solution when these requirements are formed. No - I don't know what to do, just don't know. But as for the connection of grounding resistance of supports - this measure is definitely favorable. It certainly reduces all hazardous effects of the current in the ground. ButI can't guarantee safety of people.
- Eduard Meerovitch, we get quite a lot of questions, but, not all of them relate to our today's topic. I can read them and come back to them at the end of the seminar at your discretion.
- OK, let's try at least one.
- For example, a question relating to the standartization of protection abroad, and also people ask about grounding of small objects like CTP, how are they grounded?
- You know, I'll say so. As for standartization of lightning protection abroad. In Europe, lightning protection standard is standardized by the International Electrotechnical Commission, in Russian - it is IEC 62-305. You can easily find this standard 62-305 on the Internet and read everything about it. As for the impulse ground resistance, then we get the same figure of 80 Ohms there. As for the figures for stationary resistances of grounding, the recommendations there are quite vague. But this document has all the details of lightning protection standartization. To my mind, it's too contradicting the Russian one. And if people are willing, I am ready to give a special seminar to compare European standartization with the Russian. I can say that I stick to our regulatory requirement and I can prove why. As for small houses? We've already talked about it once, but if such questions arise, let's  do a workshop, which will be called so - "Protecting a cottage."
- No, the question was about CTP, just a small object. I mean we will omit several questions, because our time is limited. If we have time at the end I will definitely come back to them.
- OK, let's move on.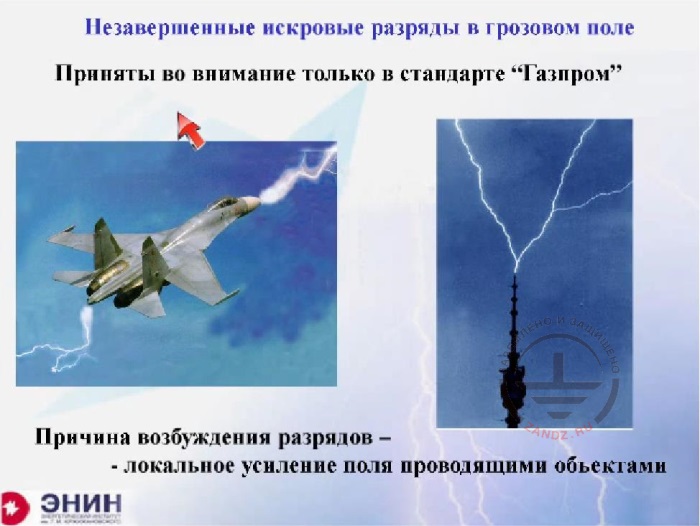 Pending sparks in a storm field
Now I want to say why I am so against lightning rods on tank farms. I want to say that in order to blow up the area of gas emission of a tank farm due to breathing, there is no need in a lightning strike. The electric field of a thunderstorm cloud is able to be so strong that the object of such great height like, for example, the Ostankino Tower. It's a picture on the right. It is able to trigger lightning, which starts from the tower and flies to the cloud. This field can be that strong. And if your objects are not as high as the Ostankino Tower, but they are ordinary objects, then on these objects of 5 m, 10 m high.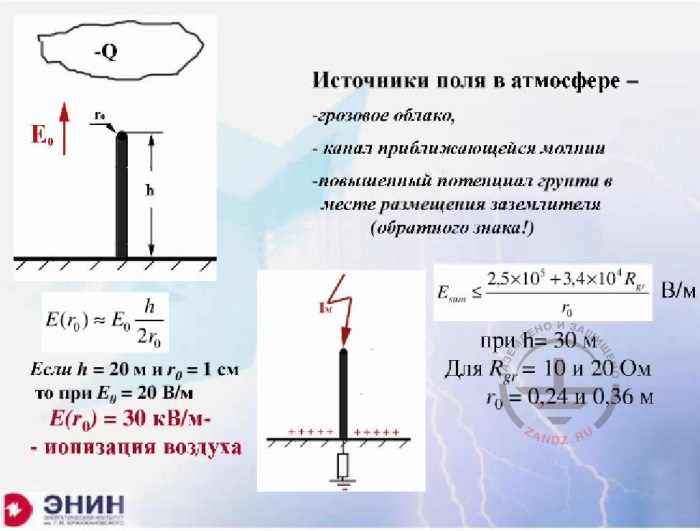 Field sources in the atmosphere
I have a rod here, you see? The electric field increases at the top of this object. Intensity of the electric field at the top of an object increases with respect to the electric field of the earth's surface, in a number of times. The height of the object must be divided by its two radii. And if I do such a thing, then I will get strengthening of the field at the top. Therefore, if, for example, the field at the surface of the earth in stormy conditions is traditionally about 20 kW per meter. Of course there is a mistake. If it's about 20 kW/m, then the field at the top of the object, which is 20 meters high, increases to lightning ionization threshold. You see how strong is the increase of IEC.
Next Page >>
Slides from 23 to 30 +  questions and answers block
Related Articles: