Sixth webinar of a series "Grounding and lightning protection: issues and problems arising in the design"
(took place on December 24, 2014 at 11:00 MSC)
We recommend streaming of "720p" quality in a full-screen mode
The aim of the seminar is to analyze the regulatory requirements for lightning protection of objects with large volumes of liquid and gaseous hydrocarbon fuel for their adequacy to ensure reliable operation in storm conditions, feasibility and effectiveness of the measures prescribed and to determine ways to improve external lightning protection.
The following topics are planned for the discussion:
protection requirements from direct lightning strikes, their actual performance and feasibility, optimization of lightning rods system;
ground electrode systems of objects and lightninf rods - how the reliability of the protected sites depends on them, solution of electrical safety problems;
the problem of protection against sparks sliding on the ground surface;
unfinished discharge from the structural elements of the object in storm conditions -  are there any effective means of struggling them;
Delivery of high potential over the major pipelines -is the danger to the object and its staff high?; how to combine the means of protection against the oncoming waves with the operation of electrochemical protection.
It is supposed to change the shape of the workshop, dividing the material  into several semantic blocks and arranging a brief discussion after the presentation of each of them.
The text of the webinar. Page 1
Estimated reading time: 1 hour 15 minutes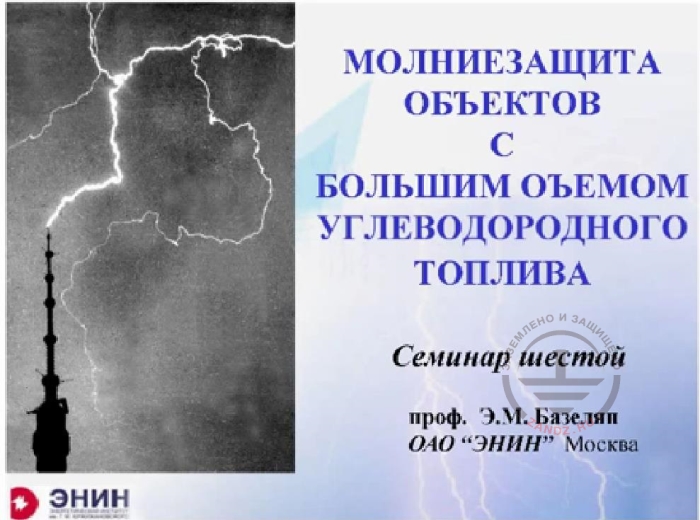 Lightning protection of facilities with large amounts of fossil fuels
Good afternoon, good morning, dear colleagues! I do not know where you are so probably I need to say both variants. And my assistants ask you to react, how you can see and hear me. And if you see or hear me not very well - complain immediately. What order  we have today? Firstly, it's time to talk about lightning protection , becausetoday the day gre on 1 minute. The spring is near and it's time to talk about lightning. We will talk in a bit different way , that we used to, because the organizers of the seminar offered us some thing. To divide the material into several interrelated issues and make a short break after each issue, during the break I will try to answer your questions on this section, and then we'll move on to the next section. I believe there will be 4 sections. Because the first section will concern installation of lightning rods. The second section will refer to grounding devices. The third and the fourth sections will deal with special lightning effects on objects with large amounts of fossil fuels. Now, why did we choose this topic? Objects with a large amount of fossil fuels? There are two moments here. The first one is that it's still an important object of our industry and our export. And the second moment, it is purely selfish, because the legal framework of these documents, it is still considerably more extensive than the legal framework of other things. And it is interesting to work with. This is probably it.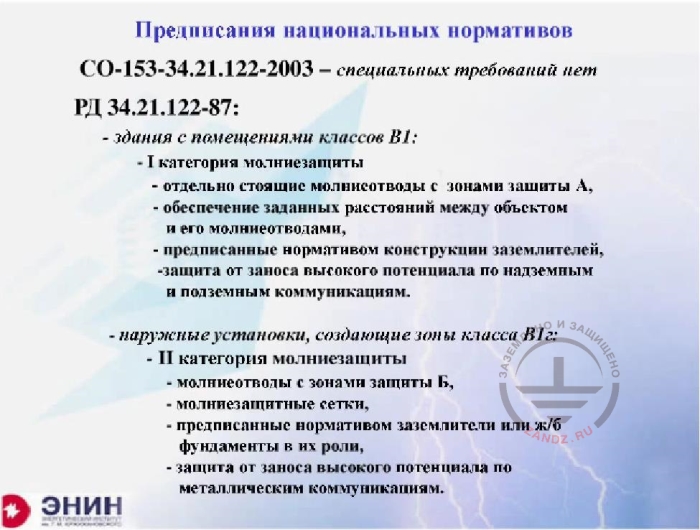 Provisions of national regulations
Let's begin! Let's start with the national regulatory framework. We have two normative documents, which you already know: IS-153 and AD 34. There is nothing about objects with large amounts of fossil fuels in the industry standard 153. There are no recommendations there, no requirements, and that's why I am not going to talk on that document anymore. As concerns AD 34, then it gives quite detailed response to such documents. Because AD 34 always very rapidly reacts to objects pf explosion and fire hazard. Therefore, all  buildings and premises of class B1  belong to the first category of lightning protection. They have to  be protected by separate lightning rods. These lightning rods must comply with protection zone A.  In addition, these rods should stand at some distance from the object, which according to the regulatory document provides no transfer of lightning discharge to the object. And the lack of penetration of lightning current along the ground to the object. Finally,  it prescribes requirements to the ground electrode systems of lightning rods. Requirements for execution, but, not requirements on grounding resistance. Finally, there is a protection against the introduction of high potential over the underground and above-ground communications. According to these requirements, all outdoor installations fall into the second category of lightning protection. According to AD 34 , the second category of protection can be carried out by separate lightning rods or rods mounted on buildings. Protection zones, which these lightning rods should provide is zone B. You can use lightning protection mesh cage, and I emphasize this especially, you can use the basement as a grounding device. Then protection against delivery of high potentials. It's like it was before.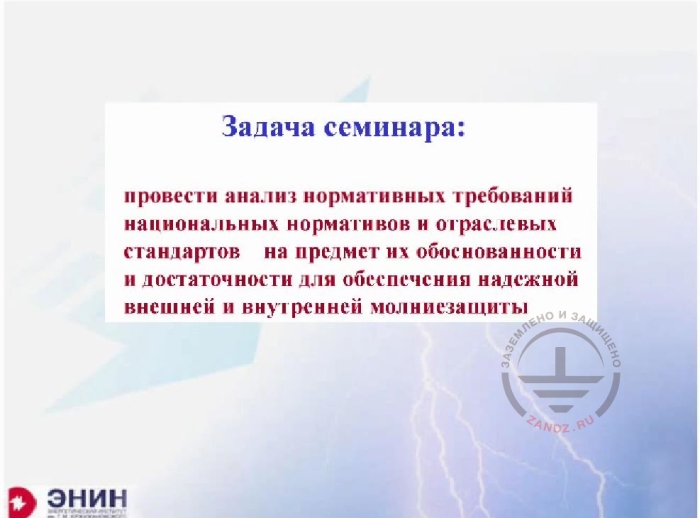 Mission of the seminar
What are the challenges we are fixing? Let's try to do some kind of thing. Let's look at the requirements of national regulatory douments first, and then at them on indistry-specific regulations. First of all, how far are these claims justified? Secondly, do they really provide reliable operation in  a thunderstorm atmosphere? Or maybe the compilers of these regulations think so? Finally, the last. Are there excessive requirements there? We cannot cancel them, we can not change the regulations. But let's cut losses and at least ensure the formal implementation of all requirements and not to spend a lot of money and materials on that - this is the second issue that needs to be done. We will start with separate lightning rods. I've alrready said about separate lightning rods. And I also said that separate lightning rods are to some extent useless. For the following.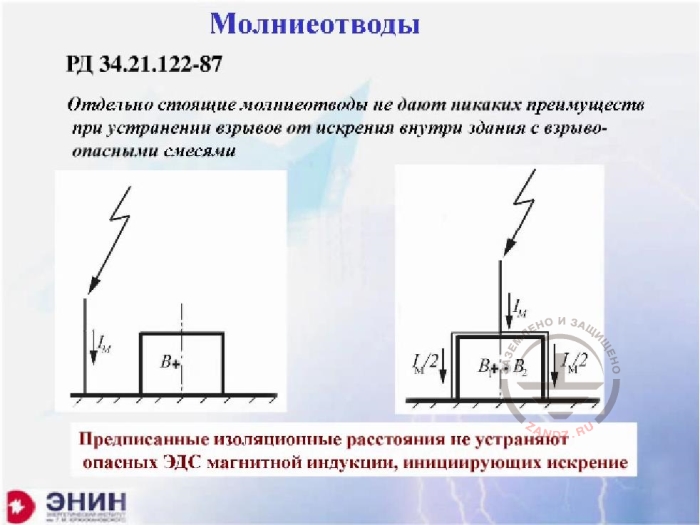 Lightning rods
This separate lightning rod, it should eliminate penetration of lightning current into the explosive object. That is its task and for this reason the distance, that according to the regulatory documents, should eliminate penetration of these currents into the object, should be provided between this lightning rod and the object through the air and ground. Why eliminate it? In order to eliminate arc drawing. But arc drawing is not necessarily a direct penetration of current, if you lightning current flows along the lightning rod and the lightning rod is located few meters away from the explosive object. EMF arises in any contour inside this object, which is able to cause arc drawing sufficient to blow the object up. Separate lightning rods have no advantages in this relation. However, AD 34 persistently prescribes to place them.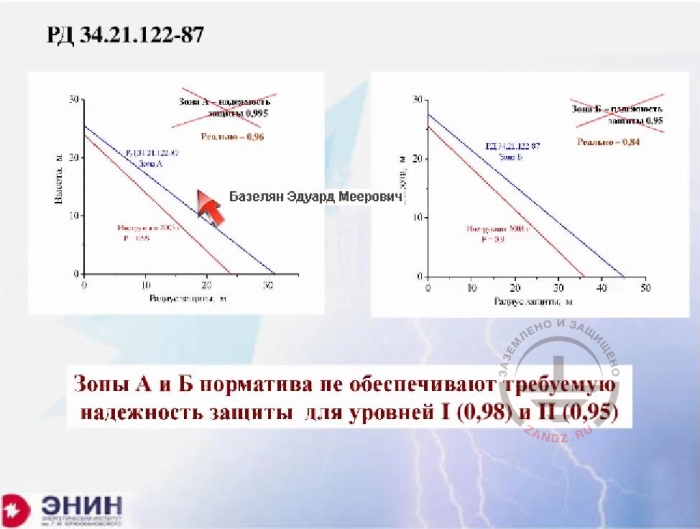 Zones A and B according to AD 34.21.122-87
The second point - a protection zone, to which AD 34 reacts. A protection zone for the objects of the first category. What is the first category? Turning to the international standards, and if we turn to our document IS 153, then the first level of lightning protection must ensure reliability of, at least, not less than 0.98. That zone A, which exists in AD 34, you see my pointer on it. It provides a protection zone not of 0.98 but 0.96. This means that the probability of lightning breakthrough into this zone will be two times higher than the required. I would warn you to use type A zone, and would have used the protection zone from IS 153, which can really guarantee the reliability of 0.99 and this way, surpass the regulation. What is about zone B? That situation is even worse, because the actual reliability of protection zone B is lower than 0.9. A the second category of lightning protection on the new standard requires 0.95. And for this reason I would not recommended to use B zone for the protection of hazardous objects with large amounts of fossil fuels. For this purpose, it is better to turn to the documents that are in IS 153.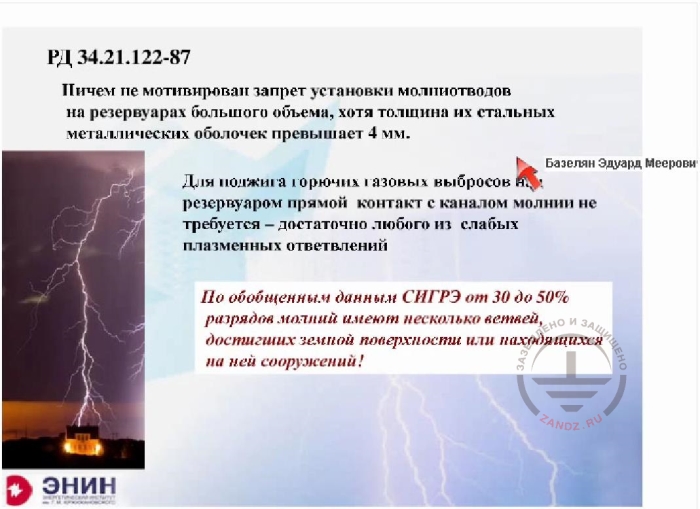 Ban for installation of lightning rods on tanks
It's a very pricky issue for me. Pricky issue. If you have tanks with large amounts of fossil fuels, then AD 34 strictly prohibits to mount lightning rods on these  tanks. It is only possible to mount them on small volume tanks, say 5000 cubic meters. If you have large tanks, and in Russia we have tanks of 100 000 cubic meters, then lightning rods must be detached. And now let's think with you: where this requirement came from? Large tanks, they are usually made of steel. Their walls are not less than 4 mm thick. Whether you want or you don't, such a tank is considered lightning-proof by the whole world. A lightning cannot burn such a tank. A lightning cannot overheat the wall of the tank. A lightning strike into a tank is completely safe for the tank. There is an objection. "Don't forget" - people tell me or will tell you - " Don't forget that the reservoir has a breath, and if you have a breath, this breath can be struck by lightning. And if there is a lightning rod standing on a tank, then the probability of such an event would be much higher. " This is the objection. What can we say in response? And we can the following. Quite recently, the International Commission for large power grids published a report in which they summarized the lightning parameter. And the report says that at least 30% of lightnings, and maybe even more,  has not one channel but several branched channels as shown on the picture, which I found on the Internet. These weak branches don't carry any special power, but any such branch is enough to ignite an explosive emission zone. And it doesn't have great difference if you put the lightning rod separately or or put it in the tank -  because the range of these channels can reach tens or even hundreds of meters. They don't carry great power, but they are sufficient to ignite. Finally, we are back to the question of fire setting. And I'll show you that a lightning strike is not necessary to ignite an explosive emission zone in the tanks. Therefore, this requirement to deprive a chance to put a lightning rod in the tank - this requirement, which complicates the design on one hand and, and on the other hand - it is disrespectful for the following reason.
Authorizing document
Now let's look at the authorizing document. This is the enterprise standard. I took a not very old standard of "Transneft" as a regulatory document and looked what is prescribed for the installation of lightning rods. First of all, I saw such a thing. According to the standard, all tanks with liquid fuel fall for the first level of lightning protection . And the reliability of protection they require - is 0.99. The second thing- it means, that for all other installations, they require the second level of protection with the reliability of 0.95. And most importantly in this case, they suddenly allow to use mesh cages. I really don't understand how to apply a mesh cage with large amounts of fossil fuels. And I do not really understand the second thing. Please, look here. In our Russian documents, bearing in mind our construction standards, the mesh cages are used of 6 * 6 or 12 * 12. There is an improvement here. Mesh cage for the first level of lightning protection - 5 * 5, and a second-level lightning protection - 10 * 10. Apparently, the compliers of this standard consider this minor change sufficient. But most importantly, they did another thing. They wrote that if at the facilities of this kind you have heat or flammable waterproofing, the mesh cage must be raised to 10 cm over this very surface. What for? The standard does not explain. But it's easy to guess. You raise the mesh, supposing that the lightning won't break to the insulating flammable cover through the mesh. But 10 cm is a too slight excess, that the mesh practically won't be able to function. And when we have calculated  what is the probability of a lightning breakthrough by this mesh, raised to 10 cm, we saw the numbers of not 0.99 or 0.95, but of 0.3 -0.4. The mesh hardly works. Still, according to the regulatory document of "Transneft" it can be applied at the companies with large amounts of fossil fuels. I'd love to hear from the compliers of the document what were they guided by.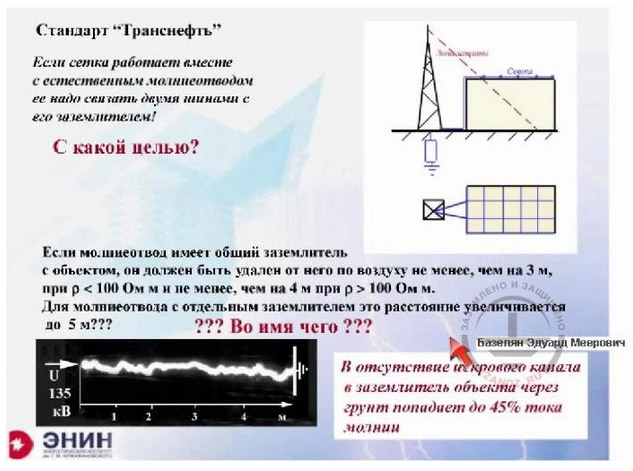 "Transneft" standard
I also want to look at that standard from other positions. The positions are as follows. They changed the name of lightning rods. We have lightning rods installed on buildings and separated lightning rods. They have insulated and non-insulated lightning rods. Insulated lightning rods - are those that are standing not in the building, but a bit remote from it, but may be connected with the ground electrode system of the building through a grounding contour. This is a new concept for Russia. Nothing similar to that was used in Russia. Forget about it, we won't talk about concepts, we'll talk about the following. At what objects it is allowed to use mesh cage. If the mesh does not cover the entire building, and covers only a part of it. Then look, there is a mesh cage at the  part of the building. This part of the building is free. Then as the lightning protection standard of "Transneft" says - you have to put a lightning rod that will capture the unprotected part into its protection zone. If you do - the document says - you need to connect down conductors of the mesh to the ground electrode system of the lightning rod. For heaven's sake can anyone explain me why this is done. For what? The technical meaning of this decision is totally incomprehensible. And the other thing from "Transneft" document is not clear. Here it is. If you have a lightning rod, and it has his own ground electrode system, and there is an object nearby, which also has a ground electrode system, if these ground electrodes are interconnected, the distance between the object and the lightning rod should be equal to 3 m in the ground less than 100 ohms * m and 4 m - in all other soils. What is the correlation between this distance and the resistance of the ground and the main soil resistivity. Nobody knows. Because there is the electromagnetic induction that occurs in this contour. And this electromagnetic induction in the contour does not depend on any specific resistance of the ground. And, finally, the last thing. If your grounding contours are separated from each other, then the distance on the ground should be increased to 5 m. It is absolutely incomprehensible. Because even if I move the lightning rod to 5 m from the object, still almost half of the current from the lightning rod will get to the ground electrode system of the object. Clear calculations show that. Finally, there is a second thing - this distance can be easily overlapped by a spark channel, which is shown here. And in order to cover the distance of 5 meters, only 135 kV is. This minor voltage will almost always occur in virtually any environment. That's what the situation is.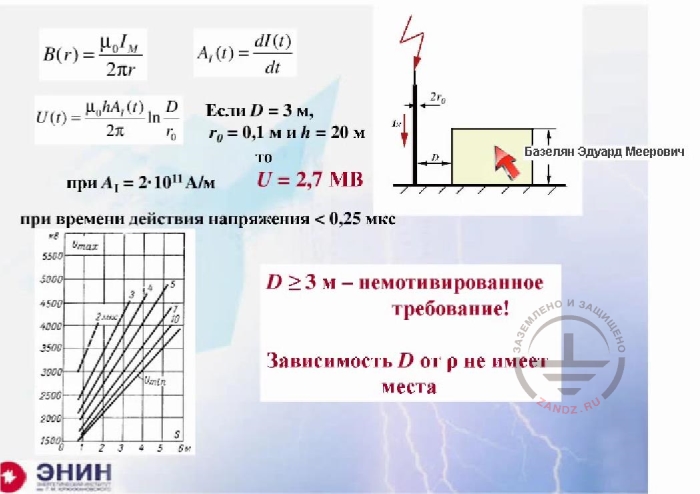 Unmotivated requirement
I would like to show you this kind of thing. This distance, which is regulated by the document can never be broken through due to inductive pick-up. Because these inductive pickups have a very short duration time, while the breakdown voltage is highly dependent on the voltage exposure time. So it's not worth worrying about the insulation distance. And most importantly, this distance does not depend on soil resistivity.
Gazprom Industry standards 2-1.11-170-2007
I'd like to draw your attention to another document, the document of "Gazprom". In my opinion, "Gazprom" industry standard can be blamed for something, but not for the insufficiency of requirements. In fact, "Gazprom" tried to be too cautious both on the use of lightning rods and on the requirements to insulation distances. And "Gazprom" is considering lightning protection mesh perfectly reasonably. It considers it as an auxiliary thing, but not as the main one. The distance between a separate lightning rod and a free-standing object. This distance, "Gazprom" regulates this distance depending on soil resistivity,  here is why. Because they see this lightning rod as detached. And that is why you have a voltage on the ground between the lightning rod and the object. This voltage is really dependent on the specific ground resistance.
Related Articles: