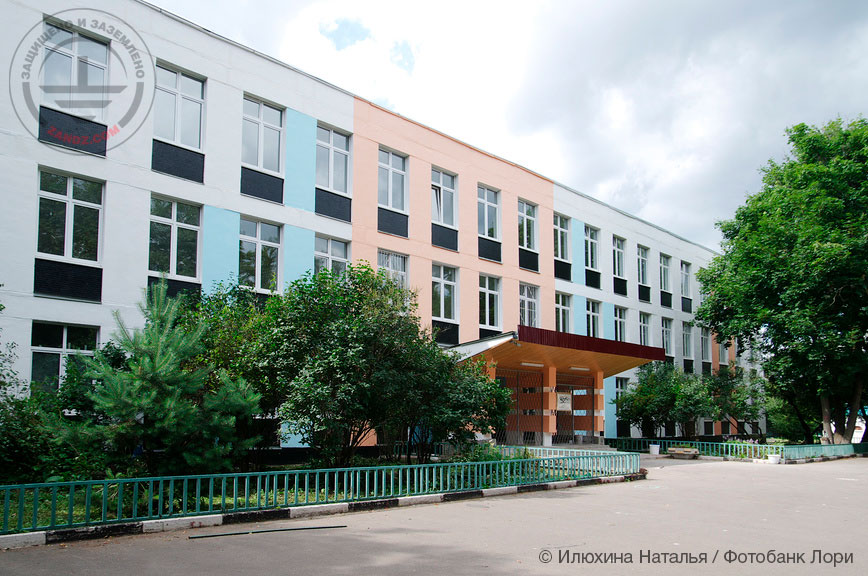 Lightning is a natural event that may cause serious damage to buildings and infrastructure. Schools are no exception. Such buildings where many people reside, certainly, need reliable lightning protection and grounding systems.
The ZANDZ Technical Center has, yet again, received a request to calculate the lightning protection and grounding for a school. Let's consider the proposed solution.
The activities were made in accordance with the Electrical Installations Code (EIC), Rev. 7, Chapter 1.7, SO 153-34.21.122-2003 "Guidelines for Arrangement of Lightning Protection of Buildings, Structures, and Industrial Utilities" (hereinafter referred to as SO), and RD 34.21.122-87 "Guidelines for Arrangement of Lightning Protection of Buildings and Structures" (hereinafter referred to as RD).
The facility is classified as conventional according to SO. The system's reliability should be at least 0.8.
Results of calculations performed by using the software developed by OJSC Krzhizhanovsky Energy Institute (OJSC ENIN):
- density of lighting discharges into the ground is 4 strikes/sq. km per year;
- total number of strikes into the system is 0.09;
- total number of breakthroughs (strikes directly to the facility bypassing lightning rods) is 0.017;
- system's reliability is 0.81.
Full report on calculation using the special software is provided here.
The software is located on our website and is publicly available. You can follow the link to test the software and calculate the lightning protection reliability.
Lightning protection performance
Protection of buildings against lightning strikes is provided by using lightning arresters. Lightning arrester is a device that is elevated over the protected facility through which the lightning current goes into the ground bypassing the protected facility. It consists of a lightning rod that directly accepts the discharge of a lightning , a current collector, and a ground terminal.
The lightning protection of the facility is made using 14 x 2 m lightning masts ZZ-201-002-D located on the roof ridges and windows.
Metal caps should be provided on all air shafts which will function as natural lightning rods.
Current collectors are installed using holder GL-11564A on roof ridges and hips, GL-11747A on roof pitches and vertical surfaces, and GL-11545A on the gutter. The clamp spacing is 0.8 to 1.0 m.
All metal elements located on the roof must be connected to the current collector using the clamp GL-11545. Stairs, railings are attached using the clamp GL-11514N.
The universal GL 11551A clamp is used to connect the rolled products over the length and in assemblies.
Current collectors are connected to the grounding arrangement using GL-11562A clamps.
According to the conditions present on the facility, grounding terminals are located only from the side and rear facades of the school building which determined the location of current collectors and grounding arrangement configuration.
Grounding arrangement resistance calculation:
The estimated soil resistivity is taken to be 100 Ohm ∙ m.
Horizontal electrode resistance:

Гор - Hor
wherein       

 – is soil resistivity, Ohm·m;

 is bar width of a horizontal electrode, m;

is depth of a horizontal electrode, m;

is total length of a horizontal electrode.
Vertical electrode resistance

Верт - Vert
wherein       

is soil resistivity, Ohm·m;

is length of the vertical electrode, m;

 – is diameter of the vertical electrode, m;

– is deepening, a distance from the earth surface to the ground terminal, m;

wherein       

 – is deepening of the electrode top, m.
Electrical impedance of the grounding arrangement:

ЗУ - GA
Исп гр - Util
where       

 – is number of sets;

 – is utilization ratio.


Ом - Ohm
The estimated resistance of the grounding arrangement is 2.25 Ohm.
Grounding
3 m vertical galvanized steel electrodes are used as grounding arrangements. A galvanized steel strip with a cross-section of 30 x 4 mm combining all vertical electrodes is used as a horizontal ground terminal. The distance to the facility foundation is at least 1 m. Strip deepening is 0.5 to 0.7 m.
According to the EIC, item 1.7.103, total dissipation resistance of ground terminals (including natural ones) of all repeated groundings of the PEN wire of each high-voltage line in any season of the year shall not exceed 5, 10, and 20 Ohm, respectively, with linear voltages of 660, 380, and 220 V of a three-phase source or 380, 220, and 127 V of a single-phase source. Wherein the dissipation resistance of the ground terminal for each repeated grounding electrode shall not exceed 15, 30, and 60 Ohm, respectively, with the same voltage values. With soil resistivity of ρ > 100 Ohm*m, said standards may be increased by 0.01 ρ times, but not more than by 10 times.
According to RD, item 1.8, artificial ground terminals shall be located under the asphalt coating or in a unfrequented spots (on lawns, at the distance of 5 m or more from soil roads and pavements, etc.).
According to EIC, Rev. 7, item 1.7.55, grounding arrangement for protective grounding of electrical installations for buildings and structures as well as the 2nd and 3rd categories lightning protection of these buildings and structures, as a rule, shall be common.
If there are concrete-steel constructions, they shall be connected to current collectors/grounding arrangement.
The location of the elements of the lightning protection system and the grounding arrangement is shown in a drawing in a separate file.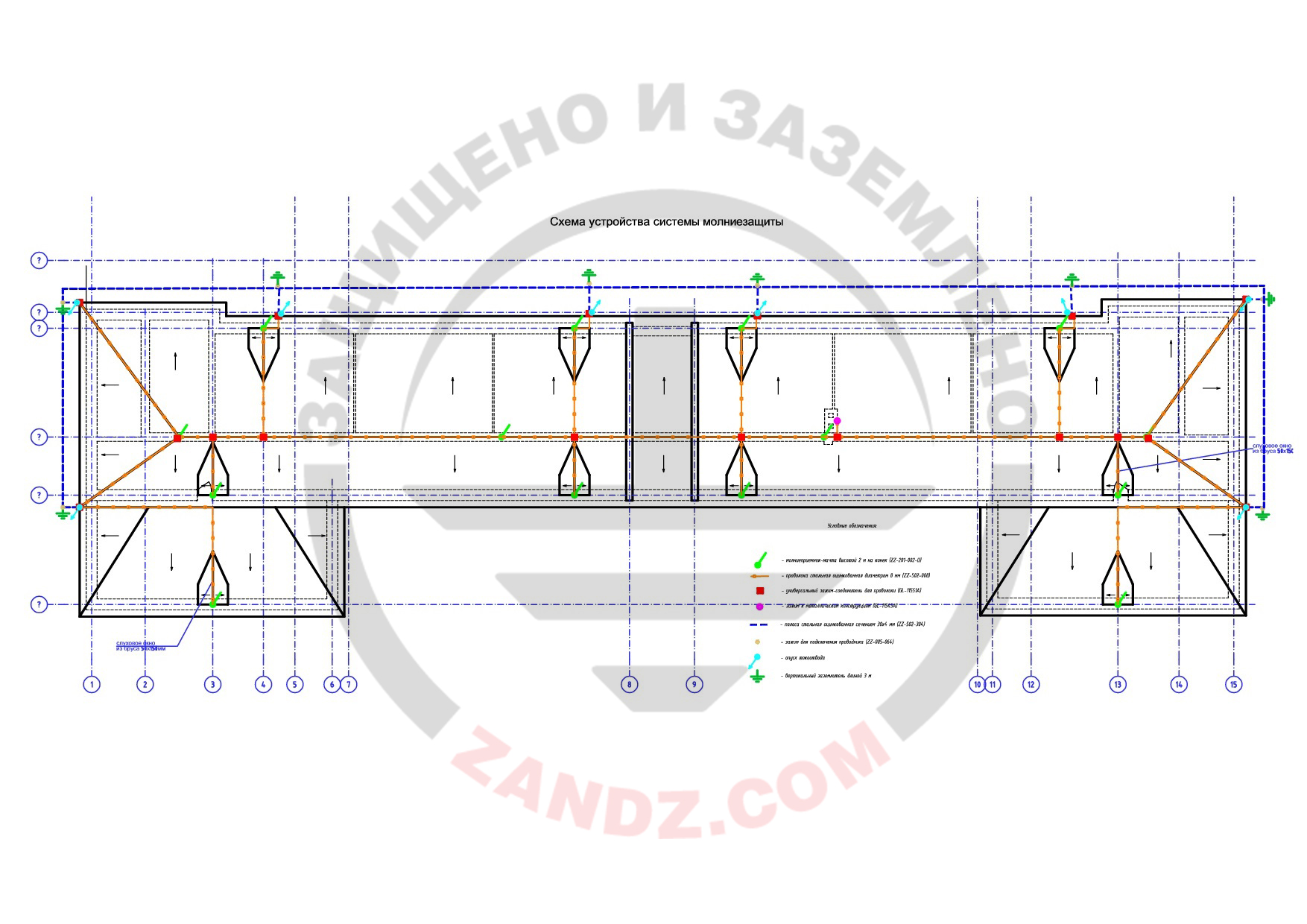 Click here to view the diagram in full.
Схема устройства системы молниезащиты - Lightning protection system layout Условные обозначения - Legend
Table 1. List of required materials.

Do you have any questions regarding grounding of a server room or other facilities? Please contact the ZANDZ Technical Center!
---
Related Articles: