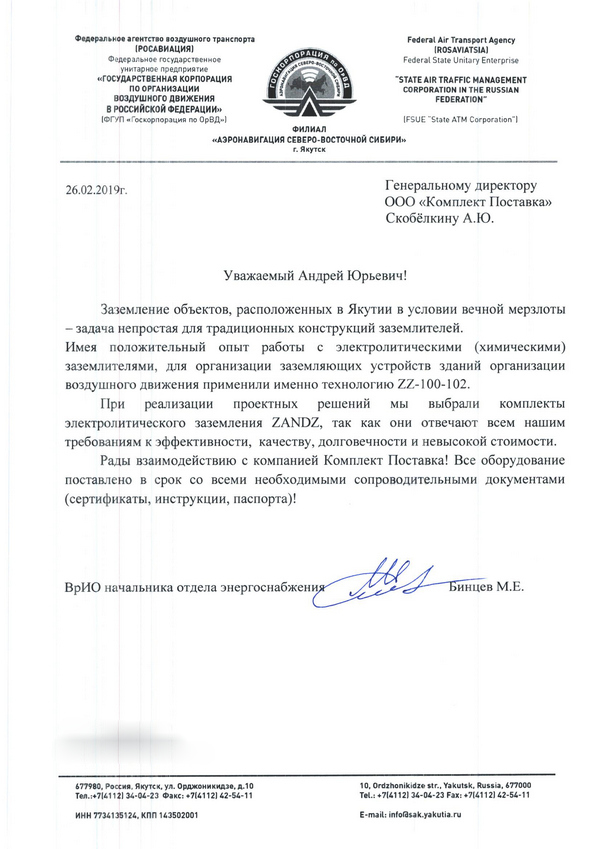 To the General Director
"KomplektPostavka" LLC
Skobyolkin Andrey Yurjevich
Dear Andrey Yurjevich!
Grounding of objects located in Yakutia in the conditions of permafrost is a hard task for conventional ground electrodes.
Having a positive experience of working with electrolytic (chemical) ground electrodes, we applied technology ZZ-100-102 for the organization of grounding devices for buildings of air traffic management.
We specially chose ZANDZ electrolytic grounding kits when implementing project solutions, as they match our requirements to efficiency, quality, durability and moderate price.
We are happy to collaborate with the company KomplektPostavka! All the equipment was delivered on time with all the necessary accompanied documentation (certificates, manuals, passports).
Alternate head of energy supply department                                                                Bintsev M.E.
The State Corporation of Air Traffic Management in the Russian Federation (FGUP "State ATC Corporation") purchased ZANDZ ready electrolytic grounding kits ZZ-100-102 to create high-quality grounding devices at "Yakutsk" Airport. The infrastructure of this federal international airport is located in the unique climatic conditions: the thickness of the permafrost layer in its region achieves 300 m.
During the construction of the grounding system in permafrost ground the customer will have to solve many complicated tasks. In particular, such grounds are characterized by high resistivity and do not allow to bury the ground electrode to a great depth without serious labor efforts. ZANDZ Electrolytic grounding kits ZZ-100-102 will help FGUP «State ATC Corporation" to get a really reliable protection of electric equipment at any time of the year. The product advantages include:
Low ground resistance. Electrode from the kit ZZ-100-102 provides 12 times weaker ground resistance than an ordinary steel electrode of the same size. Installation efficiency in the conditions of permafrost. The depth of electrolytic grounding immersion is only 0.7 m. That is why, this ground electrode doesn't require great expenditures for installation and is not subject to the effect of "pushing out" of the ground.
High corrosion resistance. Electrolytic grounding electrode is made of stainless steel resistant to aggressive oxidizing, acid and alkaline conditions. Besides, stainless steel is very resistant to electrochemical corrosion. This material shows weaker electrochemical activity in comparison with copper, zinc, black steel and other metals which are rarely met in the ground. That is why, stainless steel is not destroyed at the electrochemical reaction with them.
Efficient electrolytic filler. The mixture of mineral salts with the patented additive has a very important peculiarity: in spring, when the ground becomes moist, it doesn't turn into electrolyte completely. Degradation takes place evenly and constantly. Thanks to that, the concentration of electrolyte in the ground grows, additionally reducing ground resistance.
Durability. Electrode service life - not less than 50 years.
ZANDZ electrolytic grounding kits ZZ-100-102 has proved their efficiency at the object "Yakutiya railway" (power and telemetry equipment), "Rostelekom company" (diesel-generator sets and telecommunication equipment), "Mechel" public company and "Vankorneft" (grounding for external lightning protection systems), placed in permafrost zones.
The head of the energy delivery department of the customer company sent us a feedback and expressed gratefulness for client-friendly approach.
You can see the examples of solutions for grounding on the base of ZANDZ and GALMAR equipment at the link.
See also:
---