Articles:ZZ-201-012-pr / ZZ-201-014-pr
(made in Russia

)
A conductor wire is a metal structure that takes a lightning strike directly on itself, while taking it away from structures located in the protection zone.
ZANDZ ZZ-201-012-pr and ZZ-201-014-pr lightning rods are designed for installation on various ramps and other similar metal structures. Installation is done by welding. The lightning rod has built-up construction of:
"glass" type bearing frame;
main part of the mast;
lightning rod cap.
The lightning rod is designed for placement in I-III wind regions.
 
ZZ-201-012-pr
ZZ-201-014-pr
Height (H):
12500 mm (

12,5 m

)
14000 mm (

14 m

)
Material of the case:
steel
steel
Coverage:
hot-galvanized
hot-galvanized
Wind area for installation:
I-III
I-III
Advantages:
made in the Russian Federation;
long-term service;
esthetic appearance;
high anticorrosion resistance of the coating (the coating is applied by hot-dip zinc galvanization in accordance with GOST 9.307-89);
easy installation and installation of the mast.
Sketch ZZ-201-012-pr
| | |
| --- | --- |
| Все размеры справочные | All sizes are for reference |
| Вид сверху | Top view |
| 4 отв. | 4 bores |
| Опорная рама | Support frame |
Sketch ZZ-201-014-pr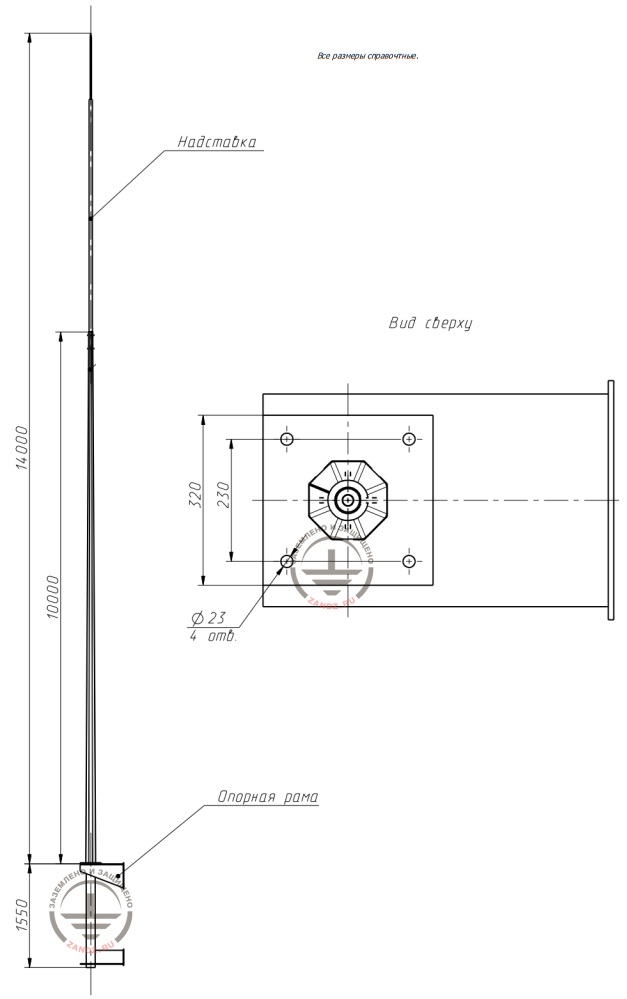 | | |
| --- | --- |
| Все размеры справочные | All sizes are for reference |
| Надставка | Extension |
| Вид сверху | View from the above |
| 4 отв. | 4 bores |
| Опорная рама | Support frame |