Articles:ZZ-201-007-3 / ZZ-201-008-3 / ZZ-201-010-3
(made in Russia

)
ZANDZ ordinary lightning rod in the form of a pointed mast with a height of 7, 8 and 10 meters.
It is installed by means of special fastenings on vertical surfaces. Fasteners are made of stainless steel and are included in the package.
During mounting, fasteners are placed on the wall in increments of 1 meter.
Conductor wires with a diameter of 8 mm are connected to the lightning rod with a special ZZ-202-002 clamp.
The mast is made of stainless steel in the form of a pipe with a wall thickness of 2 mm.
 
ZZ-201-007-3
Height:
7000 mm (

7 m

)
Diameter at the base of the lightning rod:
42,4 mm
Wall thickness of the lightning rod:
2 mm
Kit fasteners:
2 pieces
 
ZZ-201-008-3
Height:
8000 mm (

8 m

)
Diameter at the base of the lightning rod:
42,4 mm
Wall thickness of the lightning rod:
2 mm
Kit fasteners:
2 pieces
 
ZZ-201-010-3
Height:
10000 mm (

10 m

)
Diameter at the base of the lightning rod:
42,4 mm
Wall thickness of the lightning rod:
2 mm
Kit fasteners:
3 pieces
ZZ-201-007-3 and ZZ-201-008-3 masts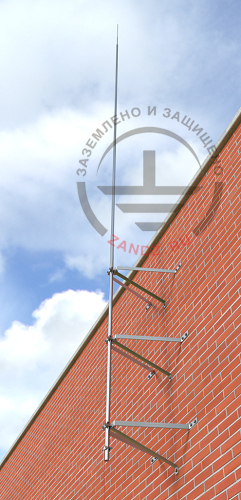 ZZ-201-010-3 mast