Product item: ZZ-007-030
The tape is used to protect the connection of a grounding rod and a grounding conductor from electrochemical and soil corrosion by complete displacement of water (moisture) from the connection point to make corrosion process impossible. The tape retains its physical and mechanical qualities for many years.
It is made of non-woven synthetic fiber material, impregnated and coated with a neutral compound based on a saturated oil hydrocarbon (petrolatum) and an inert silicon-containing filler. The tape remains soft under the influence of a wide range of temperatures. It does not harden or crack. The tape is highly resistant to mineral acids, alkali, salts and microorganisms, highly hermetical against water, steam and gas.
Only clamps for connecting conductor are protected with the help of this tape.
The tape is NOT a mandatory element.
| | |
| --- | --- |
|   | ZZ-007-030 |
| Weight: | 0,422 kg |
| Tape height: | 30 mm |
| Coil diameter: | 150 mm |
| Length in the coil: | 10 m |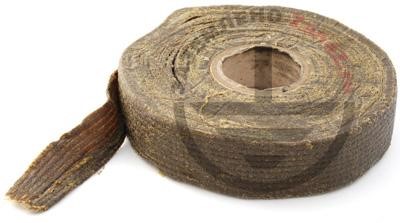 Sketch of waterproofing tape
Related Articles: